NagaWorld Unionist Committed to Talks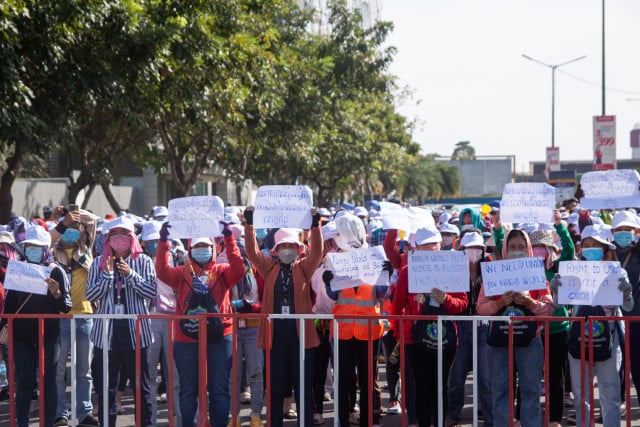 Pressure on strike leaders to quit
PHNOM PENH--Freed union leader Chhim Sithar says she will take part in negotiations to end the long NagaWorld dispute despite some other leaders withdrawing.
She said her decision was based on the views of members of the Labor Rights Supported Union of Khmer Employees of NagaWorld (LRSU)
Sithar said at an LRSU virtual press conference that some union leaders decided to withdraw from the union because of pressure after being released from prison.
Her group would enter into negotiations after the remaining detained members were released.
She said LRSU members demanded the charges against 15 union leaders be dropped to achieve equality at the negotiating table.
Eight NagaWorld union leaders were freed on Monday after serving 74 days in detention on charges of inciting social unrest. They were: Chhim Sithar, Ry Sovandy, Sun SreyPich, Hay Sopheap, Khleang Soben, Touch SereyMeas, Sok Narith and Chhim Sokhon.
Three others, Seng Vannarith, Sao Sambath and Chuob Channath, were freed on bail on March 17.
The three were charged under Article 11 of the Covid-19 law on suspicion of obstructing the implementation of health preventive measures on February 5 as they were leaving the Covid-19 testing site in Koh Pich.
Eleven NagaWorld union leaders have been freed, while four are still in detention.
Khun Tharo, program manager at CENTRAL, said the union leaders probably resigned due to health problems and family pressure as well as the past persecution by the authorities.
He and other civil society groups have called continuously for all the charges against the unions to be dropped to ensure equality, fairness and transparency in the negotiations.
"Authorities attacked the strikers at will, so I hope that the authorities and relevant ministries will solve this labor dispute fairly," Tharo said.
Related Articles