NagaWorld Workers Call For PM Hun Sen and National Assembly's Intervention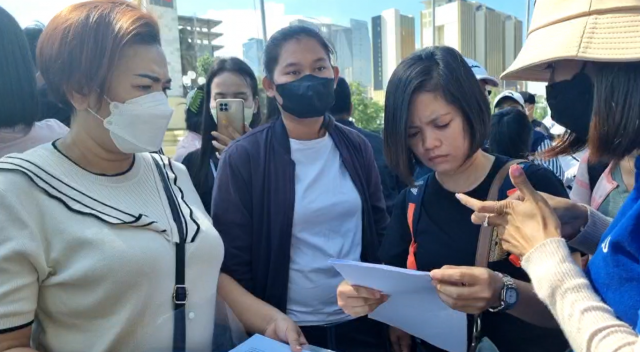 State's highest levels are seen to be the only way to find a solution
PHNOM PENH – NagaWorld employees' representatives submitted on June 20 a petition to Prime Minister Hun Sen and the National Assembly, requesting for their help to find a procedural solution to a labor conflict which has been ongoing since Dec. 2021.
Several dozen NagaWorld unions and workers gathered in front of Wat Botum on June 20 in the morning to hand over the petition to a government cabinet dedicated to receiving complaints from organizations, located nearby the Wat Botum park.
They then continued their march towards the National Assembly to present the petition, but authorities blocked the mobilization on the way, only allowing around 10 NagaWorld representatives to file the petition.
Chhim Sithar, president of Labor Rights Supported by Union of Khmer Employees of NagaWorld said the petition was filed to Hun Sen's cabinet and the National Assembly because workers don't see any other solution after several months of unsuccessful talks.
The petition highlights three main requests: NagaWorld employers have to take back about 200 workers who have been laid-off; they have to pay a proper compensation, according to the law, to employees who agree to leave the company; and they demand the court to drop legal charges against 15 union leaders who have been charged in the past.
In the past months, protesters have sought the support of various institutions to help resolve this dispute, but there has been no solution. Sithar said that besides Hun Sen, there is probably no institution that can help the workers with this labor dispute. They hope he can push and help resolve their dispute.
"We're petitioning them because [in addition to the Prime Minister] I want the National Assembly to see that there are a lot of people who have faced a lot of problems, not only 10 to 20 people," she said.
NagaWorld workers have been on strike since Dec. 18, 2021, after 373 workers, most of them being union members, were laid-off. They demand that the dismissed employees return to work and that the company respects women's rights as well as workers' standard benefits.
Over their six-month conflict, 153 of the 373 laid-off employees have agreed to receive a financial compensation offered by the casino. But 220 are still fighting to be hired back by the company.
"The reason why workers have refused to accept compensation is because they know that it would [further] weaken the union rights in the workplace. So, dismissing union leaders without compensation is not the solution, as it affects the freedom of association," Sithar added.
Ministry of Labor and Vocational Training spokesman Heng Sour said that the Ministry will continue to mediate between the company and the unions, as it has done for months. But according to the law, parties should go to court to resolve their conflict, he added.
"All parties are requested to review the procedure and implement it consistently.​​ The ministry continues to mediate but cannot go against the procedure," he said.
Related Articles