National Coach Demands Fitness Leap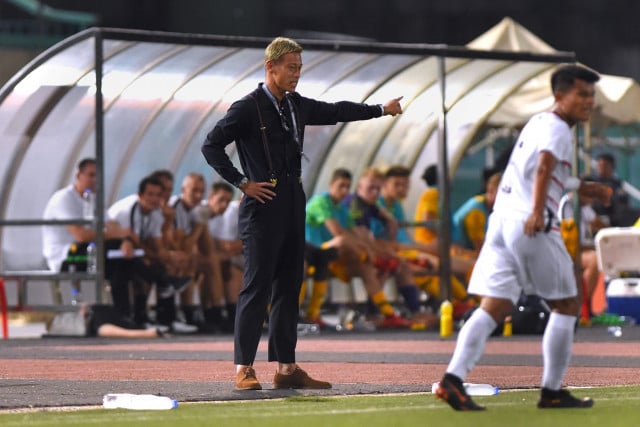 Asian Cup exposes team weakness
PHNOM PENH - - Keisuke Honda, general manager of the Cambodian national football team, has identified fitness as a shortcoming after the team was knocked out of the AFC Asian Cup 2023 qualifiers in Kolkata, India.
Honda spoke of the failings and positives of the team after a draw with Afghanistan in the second leg on June 14.
"We can play better if we can run faster and not get fatigued, We can beat all these teams if in the future we can run more." Honda said.
The 36-year-old manager said Cambodia has good and capable players who play in the national league but their playing techniques are different and limited.
"Maybe we could play better in these games but we need to strengthen ourselves better," he said.
"I cannot control the tactics of each player because the national team players come from different clubs and have different coaches, but players can strengthen themselves, such as by fitness training," he said.
The national team test will be based on a new policy, requiring players to pass what is known as a 30-15 intermittent fitness test. This test is based on training programs for sports in which running is followed by periods of rest.
Honda said he would only select players who run a lot and work hard on the field. Any player who failed the test would be sent back to the club.
National team assistant coach Phea Sopheaktra said, "We can not control the coaches at the club, but the club can help increase the strength of the team plus the players themselves can with extra training."
Cambodian football hero Pen Phat praised the talent and efforts of Keisuke Honda to lead and reform the Cambodian team. He saw the positives of Honda trying out players and giving them experience on the pitch rather than focusing on winning.
However, he said, "This is not a time to test players but a time to win for the nation. We do not need to test players repeatedly for 5-6 years. Testing of players should be done in 2-3 years." Pen Phat said.
As for form, Pen Phat believes that Honda should not drop players who maintain form if there are no injuries. He said Cambodia played the wrong way in both the SEA Games in Vietnam and the AFC Asian Cup 2023 qualifiers in India.
Pen Phat, who played for Cambodia in the 60s, said Cambodia never lost 4-0 to ASEAN countries at that time but did against European countries.
Cambodia dropped out of the AFC Asian Cup 2023 in the group stage, losing 2-0 to India and 3-0 to Hong Kong with the 2-2 draw against Afghanistan. Honda did not seem happy with the result, which was far from what he had expected.
He says he will set strict rules for selecting national teams for other international competitions.
Related Articles