National Police Chief Tells Officers to Be on the Lookout for Rebels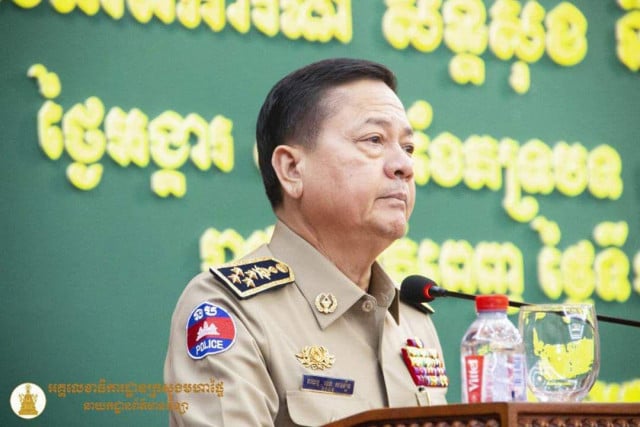 Phoung Vantha
September 18, 2019 3:08 AM
PHNOM PENH-Cambodia's National Police Chief Tuesday ordered police forces of all levels in the country to take every necessary measure to bolster security and prevent any action by rebel groups.

General Neth Savoeun issued this order during a meeting, warning police officials that rebels were planning to overthrow of legitimate government, police spokesman General Chhay Kim Khoeun said Tuesday after the meeting.
"The National Police Commissioner addressed the officers [and ordered] that, first, they strengthen security for people during the Pchum Ben festival, and second, that they reinforce nationwide security and not allow a rebel group or enemy to destroy the country as a whole," Kim Khoeun said. He added that borders forces were keeping watch at all border crossing points.
Sam Rainsy—a leader of the opposition party Cambodia National Rescue Party (CNRP) that was dissolved by the Supreme Court in 2017—recently announced that he would return to Cambodia for Independence Day on November 9. He has been living in France in self-exile since leaving the country in late 2015 when he was found guilty of defamation and other charges.
Interior Minister Sar Kheng recently ordered provincial and municipal governors to monitor former CNRP activists and members during Pchum Ben. Six CNRP activists have been arrested over the last two weeks and charged with attempting to overthrow the government.
Radio Free Asia reported Monday that, at the end of a meeting last weekend in United States, the CNRP permanent committee voted a budget to support members of the Cambodian armed forces who would defect and offer Rainsy protection upon his return.
Related Articles