National Police says won't allow employment of foreigners in private security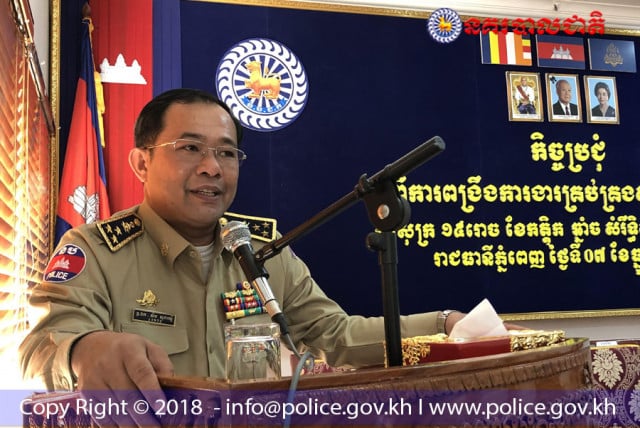 Thmey Thmey
May 1, 2019 7:38 AM
Phnom Penh, Cambodia--Cambodian National Police stated that they wouldn't allow any foreigners to be hired in private security sector. The comment was made after a hotel casino in Sihanouk Province had hired many Chinese nationals as its private security guards.
Sokha Reaksmey, the head of Private Security Department, said during the closing ceremony of private security training on Tuesday that "Cambodia has many labors to work in private security sector".
He said, "Under the law, Cambodia strictly prohibits any companies or firms from hiring foreigners to work as security guards." Sokha also urged public to cooperate and report any employment of foreigners as private security officers.
"If there is such a case, [the public] should immediately notify to the Department in order to take a swift action," he added, In the meantime, he also highlighted the importance of private security in assisting the police in protecting and maintaining security and public order.
The remark on private security recruitment was made after the owner of the Chinese- run hotel casino named "Dong Yek" in Sihanouk province had recruited many Chinese nationals to work as private security guards.
On Monday the National Police issued a statement clarifying the issue, saying that the provincial authority already summoned the owner to be questioned, and the representative of the casino owner signed a contract promising to end the employment of foreigners and continue to cooperate with the local authority.
(Photo from National Police website)
Related Articles