National Police to Heighten Security of Diplomats and Officials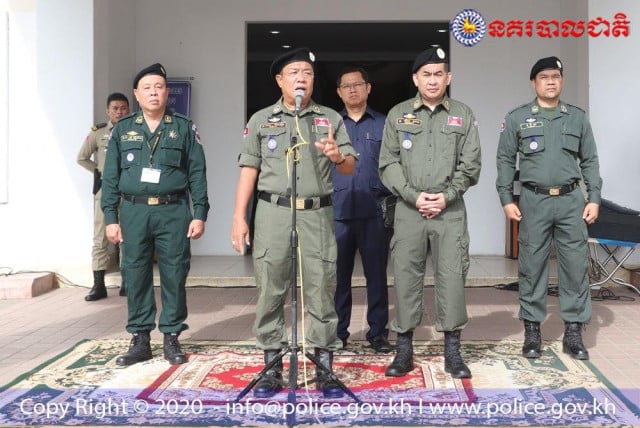 Without explaining why or how, Deputy General Commissioner of the National Police Chhay Kimkhoeun called for stricter measures in protecting diplomats and government assets.
PHNOM PENH--Senior officials of the National Police General Commission on Sept. 14 urged security departments to strengthen the security provided for diplomats and other officials, but did not specify why such measures were deemed necessary.
Deputy General Commissioner of the National Police, Chhay Kimkhoeun, said that, currently Cambodia is enjoying peace and continuous development, but as the security forces, we must always be vigilant and improve gaps that have existed in the past.
Speaking at the meeting with the Defense Police Department on Sept. 14, he urged the defense police force to be more vigilant in strengthening security of potential political targets, diplomatic, cultural, economic interests and the nation's top institutions. He did not specify who he perceived as a threat to these individuals nor did he explain the nature of his recommendations regarding enhanced security.
"All diplomats are under protection, especially the embassies of the major powers, which are the core goals that cannot be ignored," he said. "The important issue is to strive to ensure complete security for potential targets in order to maintain the honor of the National Police and promote the prestige of the nation."
"On the other hand, we must always be ready to intervene to resolve any situation that may eventually arise," he concluded.
Related Articles