National Reading Day to Expand Scope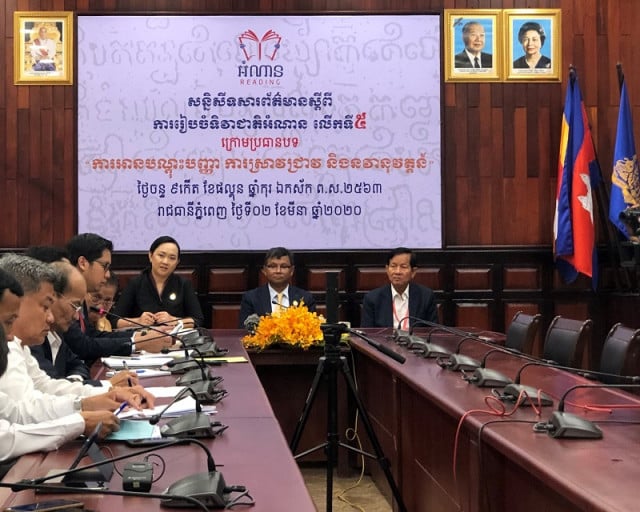 Phoung Vantha
March 2, 2020 9:25 AM
New competitions for writing and poetry expected later this month, but Kingdom's education system still lagging by international standards.

PHNOM PENH--Hang Chuon Naron, Minister of Education, Youth, and Sport said on Monday that Cambodia's 5th National Reading Day will be held from Mar. 11 to 16 at the Institute of Technology of Cambodia in Phnom Penh.

This year's Reading Day, under the theme "Reading for Wisdom, Research and Innovation" and will be bigger than the previous year with a lot of special programs. The ministry said it will organize Reading Days across 10 provinces from Mar. 6 to 15.

Speaking during a press conference on Monday, Naron said that there are about 104 book stalls, as well as young and senior writers participating in the promotion of literature. Literary competitions, such as poetry reading and writing, will give participants the opportunity to win prizes and recognition in the Kingdom.

The government issued a sub-decree on Sept. 14, 2015, establishing Mar. 11 as National Reading Day.

In 2018, the Organization for Economic Cooperation and Development (OECD) released a damning report on Cambodia's commitment to education that highlighted the need for reform.

Findings published by the Programme for International Student Assessment – a wing of the OECD focused on education assessment – showed that just 8 percent of Cambodian students achieved the international minimum standard in reading, this figure rose to 10 percent for mathematics.

PISA also reported that Cambodia's spending on education was just 2.7 percent of Gross Domestic Product (GDP) in 2018. Vietnam, by contrast, spent 4.3 percent of GDP on education in 2016, rising to 5.8 percent by 2019.

The budget for Cambodia's education ministry for 2019 was listed as $915 million in the national budget, but experts warn this may not be enough to address infrastructure gaps as well as improving the quality of education, educators and facilities needed to bring the Kingdom's education system in line with international standards.


Related Articles