NBC Allays Concerns over the Promotion of Riel/Yuan in the Country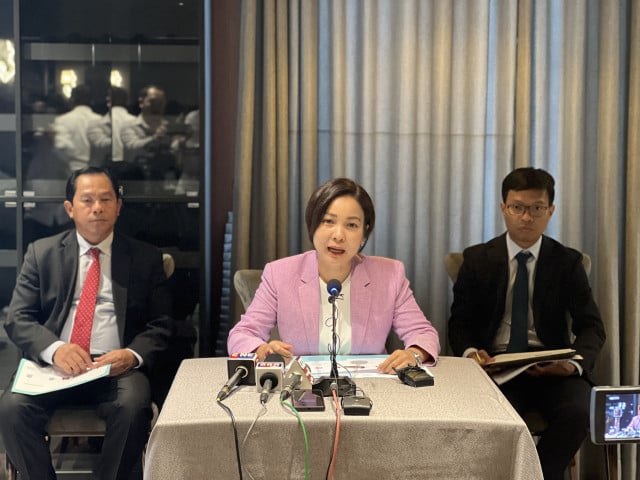 PHNOM PENH – The National Bank of Cambodia (NBC) has attempted to reassure people regarding the agreement recently signed promoting the use of Cambodia's riel and China's RMB or yuan in the two countries.
The agreement will in fact encourage the use of riel, Chea Serey, NBC's deputy governor, said.
NBC on July 10 inked a memorandum of understanding (MoU) on "Cross-Border QR Code Payment Cooperation" with China's Union Pay, which enables the use of both currencies for the payment of goods and services in Cambodia and China.
However, this agreement has caused stir as it is seen as Cambodia leaning toward yuanization while the country is encouraging the use of riel over U.S. dollar.
Chea Serey said on July 16 that she could understand people's concerns, but that the MoU was being misinterpreted.
The purpose of this memorandum is to discourage Chinese tourists from bringing yuan banknotes in Cambodia, she said. This way, they will be able to pay for goods or services through KH QR: a quick reaction code that enables cross-bank payment, Serey said.
As she explained, when Chinese tourists will make payments using the KH QR code in Cambodia, their bank in China will need to convert the amount into riel first before transferring the money to the bank account of the seller in Cambodia. Such a transaction can only happen if the Cambodian seller uses riel for the transaction, Serey said.
"Vendors who do not wish to receive payments in riels cannot benefit from this procedure," she said. In this case, Chinese tourists may decide not to buy from the store or may have to go to the bank to withdraw dollars to pay, she added.
"This will encourage Cambodian sellers to receive payment in riels if they want to attract Chinese tourists to their shops," Serey said. "Ultimately, it promotes more riel circulation in the economy."
The deputy governor said that the same rule applies to Cambodian tourists who visit China. They can use the Bakong app to scan the QR code in China after which their banks in Cambodia will convert the amount into yuan before transferring to the account in China.
"This will also encourage Cambodians who do not have riel savings accounts to open one to benefit from this memorandum and ultimately boost local riel circulation," Serey added.
"The above measures are designed to enhance the riel and enhance the prestige of the riel and the image of Cambodia in the field of electronic payments on the international stage."
Cambodia has allowed digital RMB payments via WeChat and Alipay at tourist attractions, mostly in Siem Reap and Sihanoukville.
Related Articles