Nearly 100,000 Garment Workers Suspended Over COVID-19 Impact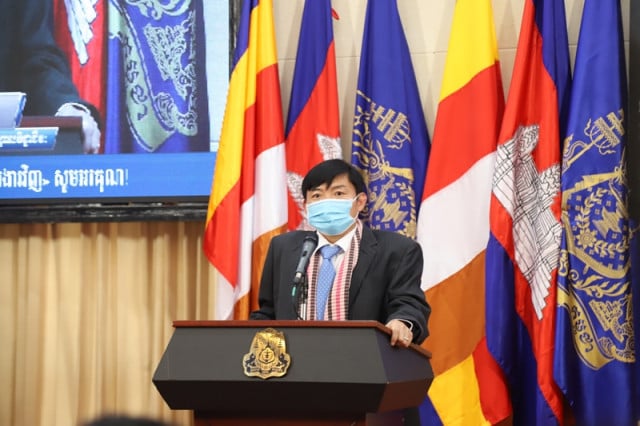 Phoung Vantha
April 27, 2020 10:26 AM
As one of the pillars of the Cambodian economy, the Ministry of Labour's announcement on Monday sets a bleak outlook for garment manufacturing in the wake of COVID-19.

PHNOM PENH--Spokesman for the Ministry of Labour and Vocational Training Heng Sour said on Monday that nearly 100,000 garments workers have lost jobs and wages due to the temporary closure of around 130 garment factories.

Across the country, factories have shut their doors due to the Coronavirus Disease 2019 (COVID-19) pandemic, which has seen a slump in demand as well as causing major disruption to supply chains.

"Most of the garment factories that submitted their requests for temporary closure to ministry mostly wanted to close rather than suspend their operations, but the ministry has been trying to negotiate with those factories and instead they have decided to temporarily suspend," he said in a press conference on Monday.

Sour said that the export of garment products will be down by more than 50 percent in the second quarter of 2020 compared to the same period last year. In the first five months of 2019, exports reached a value of $5.3 billion according to the Ministry of Economy and Finance, with the majority of those being garments, footwear and travel goods.

He went on to say that as of April 27, he had not received any information or orders from buyers for either May or June, 2020.

Following factories claiming that they couldn't afford to pay their workers their monthly salary of $190, the government intervened. As previous negotiations fell through, workers who have been suspended are now receiving just $40 per month from the government and $30 per month from their employers.

There are an estimated 850,000 Cambodians employed in garment manufacturing across the country, with the majority of them being women. The COVID-19 pandemic has gutted a once prosperous industry in Cambodia, leaving hundreds of thousands of workers uncertain about the future.


Related Articles