Nearly 16,000 Garment Workers Will be Quarantined due to COVID-19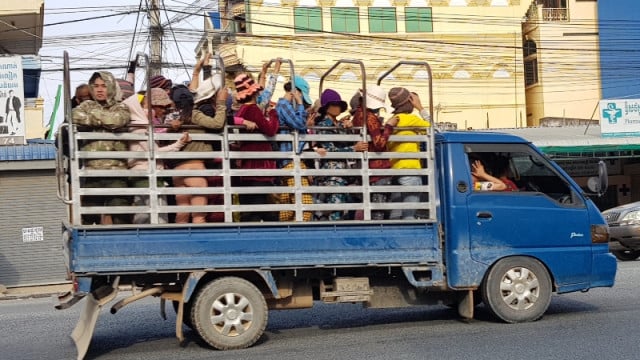 Sao Sok Eng
April 17, 2020 12:15 PM
The Cambodian authorities want to make sure none returned from the holidays with the disease

PHNOM PENH— Phnom Penh Municipal Governor Khuong Sreng said Friday (April 17) that the 15,726 garment workers who went home during the Khmer New Year holiday will remain in quarantine for 14 days before they are allowed to return to work.

Facilities have been set up to test those suspected of carrying the Coronavirus Disease 2019 (COVID-19) and those who may be identified as having contracted it, he said. But most workers will be quarantined in their respective rental rooms, he added.

According to Phnom Penh Municipal Administration's reports, 37 schools have also been prepared for workers who need to be in self-isolation.

Before Khmer New Year, which was held April 14 through 16, the Cambodian authorities urged the private and public sectors to work on those days in order to prevent the spread of COVID-19 as millions of Cambodians usually crisscross the country to visit friends and family during that holiday.

On April 9, Prime Minister Hun Sen ordered the authorities to stop people from traveling outside of Phnom Penh, in-between provinces or across provinces from April 9 through 16.

That same day, the Ministry of Labour and Vocational Training announced that garments workers who decided to take time off during Khmer New Year would have to go into quarantine for 14 days without pay when they returned to work. However, workers who would go on holiday with their employers' permission would be paid for the days in quarantine.

At this point, the number of workers went on holiday with their employers' authorization remains to be determined, Sreng said.

At the present time, the situation in Cambodia remains under control regarding the pandemic. The Ministry of Health on Friday (April 17) announced that, for the fifth consecutive day, no new case of COVID-19 had been detected in Cambodia. The official number of confirmed cases stood at 122. Among them, 98 patients have recovered and 24 remain in hospital.


Related Articles
November 12, 2021 3:30 PM