NEC Sues Candlelight Party Vice President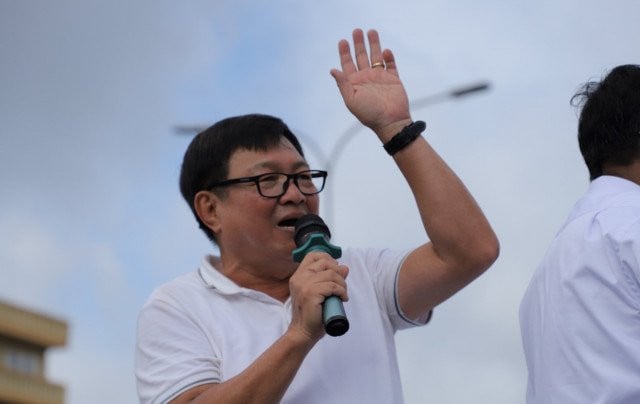 Son Chhay damaged reputation: poll body

PHNOM PENH – The National Election Committee (NEC) says it will sue Candlelight Party (CLP) vice president Son Chhay for defamation, three days after the ruling party sued him for allegedly damaging the CPP's reputation.

The NEC took action against Son Chhay on June 17 for criticizing the commune elections and accusing the NEC of not being independent.

In the complaint, the NEC calls for Chhay's conviction and for him to publish a letter of apology.

Son Chhay said on June 7 in an interview with the Cambodia Daily that the preliminarily election results did not reflect the true will of the people and the NEC was not independent in conducting the June 5 election.

"His remarks have seriously affected the NEC that has to perform its duties independently and impartially to ensure that the elections are free, fair, and just in accordance with the principles of multi-party liberal democracy," the NEC said.

Thach Setha, a spokesman for the Candlelight Party, said the NEC is an arbitrator which must work independently, so it should not sue. He believed that the NEC should cooperate and work together to solve the issue.

He said that when there is criticism of irregularities in the election process, the NEC should provide an explanation to critics by hosting programs such as seminars.

"The NEC chooses to sue. I don't know what else to say," said Setha.

On June 14, the Cambodian People's Party sued Son Chhay for damaging the CPP's reputation, requesting that the Phnom Penh Municipal Prosecutor's Office convicts him and that he should pay 4,000 million riels (approximately $1 million) compensation to the CPP.

The NEC also warned on June 13 of legal action against those who falsely accuse the process of not having been carried out properly, to prevent further criticism of the election.

Son Chhay flew to Australia on June 11, shortly before the CPP filed the lawsuit. CLP spokesperson Thach Setha said Son Chhay went to Australia in a personal family capacity. He has Australian citizenship and a home in Australia.

At the election, CPP received 5.3 million votes or 74.32 percent, while the CLP received 1.6 million votes accounting for 22.26 percent, according to preliminary NEC results.

The CPP won more than 8,630 commune council seats and secured at least 1,648 commune chief positions, while the CLP won around 2,500 council seats and got four communes.

According to the NEC, 7.3 million of 9.2 million eligible voters took part, a turnout of 80 percent.
Related Articles