Nepal's prime minister to visit Cambodia next week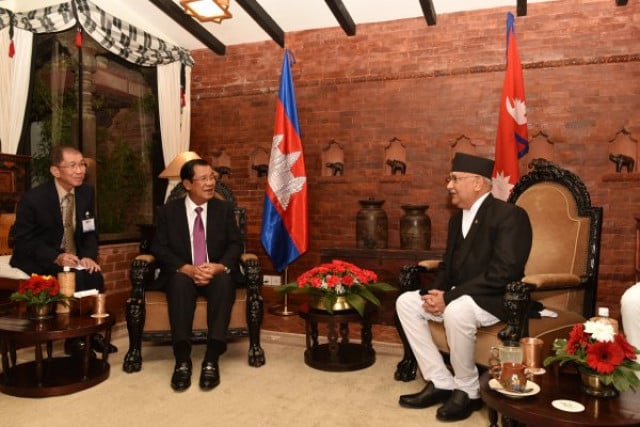 Thmey Thmey
May 6, 2019 2:32 AM
PHNOM PENH--Nepalese Prime Minister K.P. Sharma Oli is to pay a three-day official visit to Cambodia next week, foreign ministry spokesman Ket Sophann said.
He said the visit, at the invitation of Prime Minister Hun Sen, was scheduled for May 13 to 15. He declined to say whether any bilateral agreements would be signed.
The Himalayan Times quoted Nepalese Foreign Minister Pradeep Kumar Gyawali as saying the prime minister's visit to Cambodia would follow a trip to Vietnam.
The minister reportedly said that the Nepalese and Cambodian leaders would discuss tourism and investment and that bilateral agreements would be signed.
Cambodia and Nepal established diplomatic relations in 1964 and ties have expanded in recent years.
Hun Sen became the first Cambodian prime minister to visit Nepal when he attended a regional summit in Kathmandu late November.
During the visit, political, cultural and economic cooperation agreements were signed along with a memorandum on opening an embassy in Nepal.
K.P. Oli also serves as chairman of the Communist Party of Nepal (Unified Marxist Leninist).
Related Articles