New COVID-19 Case Found as Migrant Workers Return from Thailand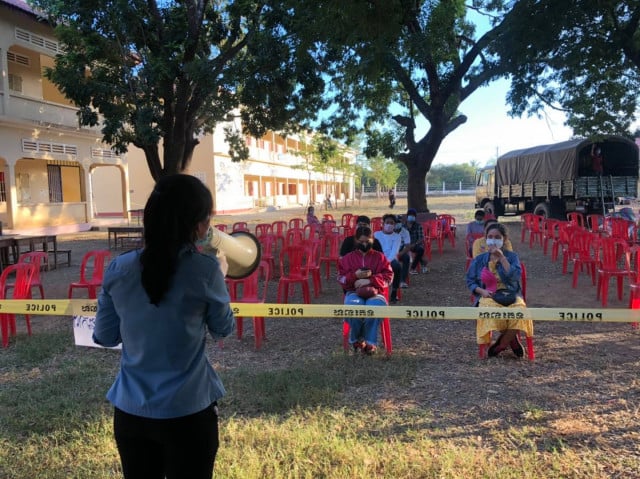 Phoung Vantha
January 11, 2021 5:05 AM
The Health Ministry also stated that more than 355,000 COVID-19 tests have been performed in Cambodia.
PHNOM PENH--The Ministry of Health on Jan. 11, 2021 has identified one new case of COVID-19 as one woman returned from Thailand, arriving in Cambodia on Jan. 8 and subsequently testing positive for the virus.
According to the ministry's statement, the 28-year-old woman is a resident of Battambang Province and is being treated a Banteay Meanchey Provincial Referral Hospital.
This brings the total number of Cambodian migrant workers who have tested positive for COVID-19 since returning from Thailand up to 27, following an outbreak of community transmission in the Thai province of Samut Sakhon.
Meanwhile, three women—including the wife of Chhem Savuth, director-general of the General Department of Prisons—have recovered from the virus and been discharged from hospital. Savuth's wife was infected early on in the Nov. 28 community outbreak, but has been receiving medical treatment since.
Dr. Li Ailan, the World Health Organization's representative in Cambodia, did not respond to questions regarding the origins of the Nov. 28 outbreak at press time.
So far, the Ministry of Health has performed 355,903 COVID-19 tests, roughly 21,184 per million people in Cambodia. The Pasteur Institute, where the majority of COVID-19 results are assessed in Cambodia, did not respond to questions over the relatively low rate of testing being carried out nationwide.
As such, Cambodia has recorded 392 cases of COVID-19 since the outbreak began in China more than a year ago, but 374 of Cambodia's total number of patients have since recovered, with 18 currently hospitalized and no deaths officially attributed to the virus.
Related Articles