New COVID-19 Cases Involving People Arriving on International Flights Are Identified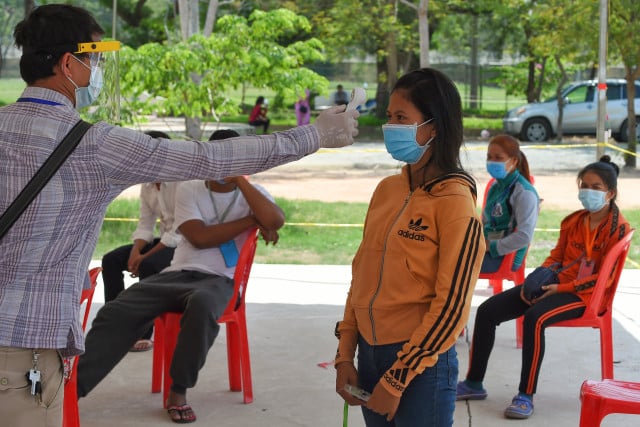 Phoung Vantha
February 5, 2021 5:03 AM
As Prime Minister Hun Sen announces that the vaccination campaign will shortly begin
PHNOM PENH--The Ministry of Health on Feb. 5 reported that three new cases of COVID-19 had been identified, bringing to 470 the total number of cases in the country since the start of the pandemic.
According to the ministry's press release, the first two patients are a 28-year-old Indian man and a 23-year-old Indian woman who came from India through Singapore, arriving in Cambodia on Feb. 3. They are being treated at the National Center for Tuberculosis and Leprosy Control while the other 78 passengers on their flight who tested negative for COVID-19 have been placed in quarantine for 14 days at hotels in Phnom Penh.
The third patient is a 63-year-old Cambodian woman from Phnom Penh who tested positive for the coronavirus the second time she was tested prior to the end of her quarantine period. She had travelled from the United States via South Korea and arrived in Cambodia on Jan. 22. The other 85 passengers on her flight remain in 14-day quarantine.
Meanwhile, a 57-year-old Cambodian woman who had tested positive for COVID-19 when she arrived from the United States on Jan. 10 has been allowed to leave the Chak Angre Health Center in Phnom Penh after testing negative twice for the coronavirus.
On Feb. 5, Prime Minister Hun Sen announced on his Facebook Page that, as part of measures to curb the pandemic in the country, the vaccination process will officially begin at Calmette Hospital at 8:30 am on February 10. The prime minister will be the first to be inoculated followed by senior officials, he said.
The vaccine used will be the Sinopharm vaccine, which was developed in China. At least 600,000 doses of the vaccine donated by China should arrive in the country on Feb. 7.
Since the first case of COVID-19 was identified in Cambodia in January 2020, 452 patients have recovered while 18 patients still are under care. No death has been attributed to the coronavirus in the country.
Related Articles