New Dolphin Calf Found in Mekong River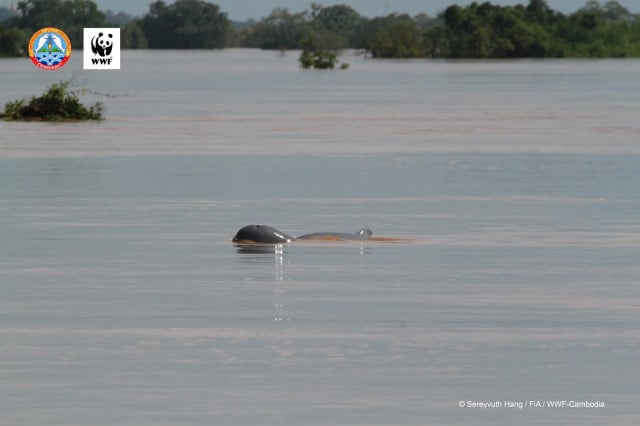 PHNOM PENH – An estimated two-week-old new dolphin calf has been detected in the Mekong River in Kratie province, making this new calf the sixth new dolphin recorded in 2022.
The calf was photographed on Oct. 2 by the fisheries administration and World Wildlife Fund (WWF-Cambodia) in the dolphin habitat area located about three kilometers upstream of Kampi deep pool in Sambo district, Kratie province. The dolphin calf was spotted swimming with other four adult dolphins.
Seng Teak, WWF-Cambodia country director, said that six new dolphins have been recorded since January 2022. But according to previous reports, three adult dolphins and four newborns died this year, including one who is believed to have been electrocuted.
The latest dolphin general census, which was carried out in 2020, found that 89 dolphins were living in the Mekong river at that time. A new dolphin population tally will be done by October 2023 by the WWF and the government's fisheries administration.
"The research team is studying and surveying dolphins as well as collecting data," Teak said on Oct. 4. "But surveying and counting the dolphin population is time-consuming as the team has to stay on the boat amidst the Mekong River to keep close eyes on the individuals who emerge from the water so that they can record and snap a photograph."
The director of WWF-Cambodia added that the Mekong Dolphin Pleasance of Kampi village is a nature tourism destination and a protected area for dolphins. Around 60 percent of the total number of dolphins are living in the area.
In Cambodia, Mekong River dolphins are found from the Anlong Kampi Irrawaddy dolphin conservation area to Stung Treng province, Teak told, adding that there are 72 river guards who patrol monthly for 12 to 15 days to prevent illegal fishing such as electric fishing or nets.
He urged the local population to actively be involved in protecting and preserving dolphins for the development of ecotourism in Kratie province and to report any illegal fishing that occurred to the authorities.
The Mekong River dolphins are considered an endangered species on the red list of threatened species by the International Union for Conservation of Nature (IUCN).
WWF-Cambodia said while continuing to strengthen the fisheries law and dolphin conservation measures over the whole dolphin habitat along the Mekong River, from Kratie to Stung Treng provinces, the Fisheries Administration and WWF will work with local authorities to protect the habitat where calves were reported.
The conservation of the remaining dolphin and mega fish species will be achieved by ending the use of fishing techniques that are prohibited by law, particularly the use of gillnets and electrofishing, regular river patrols by river guards, and participation in initiatives for alternative livelihoods by fishing communities.
Related Articles