New Dolphin Calves Recorded in Cambodia, but Survival Not Assured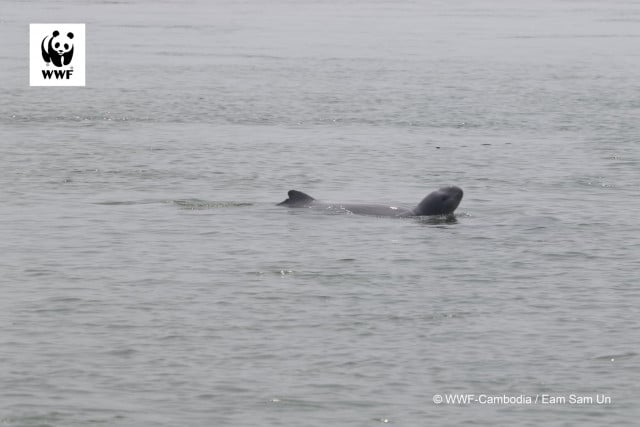 Jazmyn Himel
March 19, 2020 10:33 AM
World Wildlife Fund Cambodia seeks new means of protecting the endangered species.
PHNOM PENH--World Wildlife Fund (WWF) Cambodia confirmed on Saturday that they had recorded the fifth Irrawaddy dolphin calf this year, two of which have already died.
Based on data from the past two years and three months, "a total of 28 calves were recorded; 15 died. As a result 13 dolphin calves have been brought into the population," WWF-Cambodia's Office stated.
Marked as critically endangered by the International Union for the Conservation of Nature's Red List, the freshwater Irrawaddy dolphins, the species' habitat stretches along the Mekong River north of Kratie to the Lao border, according to WWF's website.
"This is good news in a sense," WWF-Cambodia continued, "in a sense that newborns are rising due to effective law enforcement at the ground level but at the same time, the mortality rate is worrisome."
The Fisheries Administration and WWF are currently investigating the causes of mortality. Strict law enforcement in dolphin conservation areas to stop illegal fishing has been key to promoting population growth.
"In close collaboration with WWF, officials from Fisheries Administration, River Guards and provincial authorities are regularly carrying out patrolling activities to vigorously monitor and crackdown on all illegal fishing practices," WWF Cambodia said.
More specifically, officials aim to curtail the use of gillnets in dolphin protection zones, which are one of the main threats to the Irrawaddy dolphin.
WWF has collaborated with local governments and development agencies to "provide alternative livelihood opportunities in communities among the Mekong with the ultimate objective of reducing pressures from fishing activities in the dolphin areas."
The livelihood programs offer opportunities in sustainable agriculture such as raising livestock and growing vegetables, but also provides training in the development of eco-tourism, which also allows communities to further generate income in a sustainable and environmentally conscious manner.
In addition to these programs, WWF-Cambodia also engages in education and community outreach where they have been conducting village meetings, school visits and monk engagement since 2005. They target places surrounding dolphin conservation areas and claim that this has played a large role in improving conservation efforts.
Following 20 years of conservation efforts, 2017 was the first recorded increase in the Mekong dolphin population, with an increase of 15 percent from 80 in 2015 to 92 individuals in 2017 according to WWF.
Related Articles