New Generation Schools Bring Change to Cambodian Education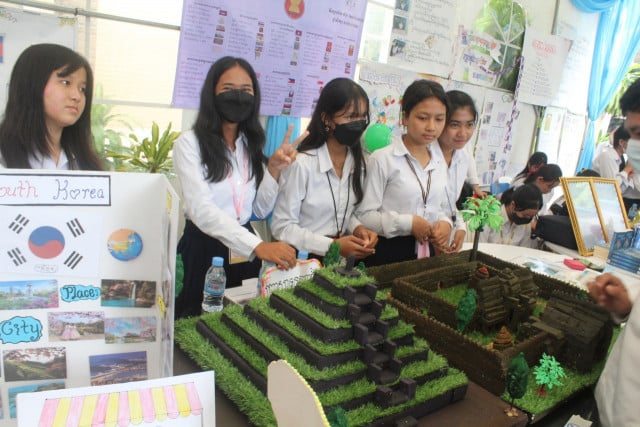 KAMPONG CHAM – Reach Ponita is grade-11 student at the Hun Sen Kampong Cham High School. On the evening of Aug. 27, in the green courtyard of the school, she, alongside her schoolmates, was presenting to parents and other students the latest invention her study group came up with: two colorful boxes, yellow and pink, that aim to assist students in doing algebra.
Using their tool is a piece of cake. Students only have to rotate a small paper handle on the side of the box to get the answer to every sine and cosine calculation they may need. When using their invention, visitors could know in a few seconds that "Cos 60° = 1/2" and "Sin 60° = √3/2", a calculation that few people can do without a calculator.
"I feel proud that I can create a useful tool for the younger students," said Ponita. "Even when I'll have left high school, at the end of grade 12, our work will remain here."
A few meters away, another grade-11 student, Sryrith Pichaliyan, was presenting the "derivative machine" her team created after being involved in a math club. Like Ponita's creation, her invention helps students solve math problems easily, and are particularly fun to use.
These creations and many others presented that day, don't come out of a regular Cambodian public school, but originate from what is called a New Generation School (NGS), of which the Kampong Cham High School is part.
The program was launched in 2014 by the Ministry of Education, Youth, and Sports, in collaboration with the local NGO Kampuchea Action to Promote Education, and aims at moving public schools to the next level. It focuses on improving the educational quality by encouraging students to be more creative and putting into practice the theoretical knowledge they've gained through experiences, that would particularly benefit younger students.
Despite being public, such schools are autonomous, which means their teaching program is slightly different from other public schools. It primarily focuses on science, technology, engineering, and mathematics (STEM), to foster the emergence of Cambodian scientific experts.
Soeung Vann, school director of the Hun Sen Kampong Cham High School said that he is really happy with the outcomes students have created to serve the community and other students of the school. He can't wait to see them participating in national and international school competitions.
Speaking to Cambodianess, he insisted that teachers are at the core of the NGS' success.
"Teachers must be carefully selected. They are required to attend additional pedagogical courses and have to be involved in the professional learning community on digital work and administration. We want them to push students to be more creative and innovative," he said.




Soeung Vann, school director of the Hun Sen Kampong Cham High School.

Unlike in other public schools, teachers have to submit an application to work in NGS and go for a job interview, as they would do for a private school. More is expected from them too: they need to set up laboratories, establish study clubs in math, physics, or chemistry, create new libraries with book novelties, etc. And, like in private companies, teachers see their performances evaluated every year, with the risk of being fired if they don't meet the requirements.
The hiring process is not the only difference between a regular public school and an NGS. Students can study in such schools only from grade 7 onwards. But before being able to attend new generation classes, they have to pass a test of general knowledge and math. Physics will also be tested for students applying for grades 9 and above.
Once selected, students will be given the opportunity to learn in a less crowdy environment, with an average attendance of 35 students per class, while it can go up to 50 in some public schools.
The learning schedule is also revolutionary for Cambodian standards. While students in public school usually attend classes for only half a day, NGS students need to study the entire day. On top of it, they are not allowed to take additional classes outside of school. "It allows students to study the theory in the morning and to practice in the laboratory in the afternoon," Vann stressed, adding that student seems to be enjoying it.
Pointing to a group of students sitting under a tree reading a book, the school principal proved his point: even though that day was a Saturday, students still gathered at school, to attend their favorite club, to read a book in the school green environment, or to do their assignments.
"We try to transform the environment, both inside and outside. We want the school to be a place of learning, meeting, and open to discussion, so that students feel eager to learn," he said.
"The school is the provider, the teacher is the facilitator and the student is the creator. This way of thinking can achieve our goal to transform students into skilled grownups, with both knowledge and attitude," he said.
Nevertheless, that transformation comes to a cost. To host its 560 students in the best conditions, the Kampong Cham High School needs $120,000 a year. Most of it goes to the teachers' pay, which stands at $8,000 a month for the educational team. "Teachers get $150 a month of extra wage, compared to a standard public school," added Soeung Vann.
Parents are also asked to pay their part, on a voluntary basis. While the most disadvantaged families with talented kids can't afford to pay much, other wealthier families, are willing to give more, so their children can learn in the best conditions the public system is currently offering.
"The parents' contribution is essential to the school as it provides around a third of the annual budget," said Vann. The rest comes from the Ministry of Education.
So far, the reform seems to be paying off. "My parents are very happy and see that I'm clever and dedicated at work," said Sryrith Pichaliyan, the inventor of the "derivative machine".
A few meters away from her, during the annual exhibition day, Luy Darita and Oeur Sophirak were presenting their "Smart home", a house security device that aims to prevent fires and burglaries with censors sending alerts on mobile phones.
"Even though it is just a prototype, that can't really be used in any house, we are really happy with the result! If we have enough time and money, we will make it as a final product that can be used by anyone," they said at the fair.
Seven years after the launch of the program, there are 11 new generation schools in Cambodia: seven of which are high schools and four are primary schools.
The four primary schools are the Hun Sen primary school and the Angkor Ban primary school in Kampong Cham province, the Presh Reach Akeak Mohesey primary school in Kampong Speu province, and the Svay Chrum primary school in Svay Rieng province.
The seven secondary schools include Preah Sisowath high school, Prek Leap high school, and Preah Yukunthor high school in Phnom Penh; Hun Sen high school, and Hun Sen Peam Chi Kang high school in Kampong Cham; Samdech Akka Moha Thamma Pothisal high school Chea Sim Prek Anchanh in Kandal province; and Kourk Pring high school in Svay Rieng province.
Related Articles