New Minister Pledges to Transform Cambodia's Agriculture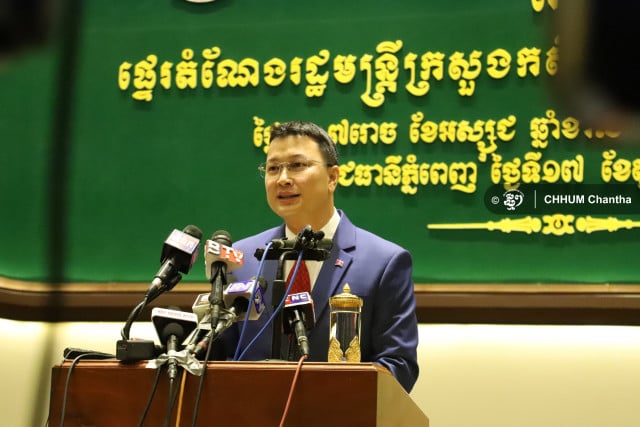 PHNOM PENH – The newly-appointed Minister of Agriculture, who took office on Oct. 17, said he is committed​ to transforming Cambodian agriculture into a more modern, intelligent, environmentally friendly, and climate-resilient one.
During the inauguration ceremony held yesterday, Dith Tina, former Secretary of State of the Ministry of Mines and Energy and newly-appointed Minister of Agriculture, Forestry, and Fisheries, said he pledged to strengthen the agriculture industry in Cambodia and revealed some of his priority work direction.
He mentioned that in the medium term, he will focus on measures to promote research and development in the agricultural sector and to adopt practical approaches and new technologies which are beneficial for Cambodian agriculture so that farmers and those working in the industry can use them for effective production.
"We have turned away from [doing] agriculture depending on the rain to adopt agriculture [based on] irrigation systems, which enables farmers to yield more crops. We have turned from traditional agriculture which depended on humans and animals to modern agriculture which uses automation and machinery," Tina said.
"[Despite] these achievements, we still have some other urgent tasks, such as solving problems for the people affected by floods and promoting the transformation of the agriculture sector," he remarked during the ceremony.
Developing and expanding the export capacity of the agriculture sector as well as strictly strengthening the control of the land concessions to allow sustainable development is also one of his medium-term goals.
Short-term challenges: floods and lack of local demand
The new minister also stated that he and his subordinates are committed to continuing to implement the fourth phase of the Rectangular National Plan and Strategy and the Agricultural Development Strategic Plan 2022-2030 to address farmers' challenges and find them new markets.
As a first step, he said he will mobilize the ministry's forces, means, and resources to cooperate with relevant institutions to monitor and address the impact of floods that have destroyed people's crops in many provinces while the ministry will provide rice seeds and crops to help farmers.
Tina revealed that he would directly go and provide aid for the people in provinces affected by the flood after he had finished some tasks at the Ministry.
Hun Sen said on Oct. 8 that floods had affected 22 provinces, or 96 districts and 770 communes, claiming four lives and disrupting many schools.
The prime minister said 150,000 hectares of rice were under water but had not yet been damaged, and 41,024 hectares of various crops were flooded, citing a report from Kun Kim, vice president of the National Committee for Disaster Management (NCDM).
Tina said he would be working hand in hand with the government and the NCDM to address the flood disaster.
Regarding the lack of demand in the national market, the newly appointed minister said solving the issue would require cooperation between the Agriculture Ministry, the farmers and other relevant stakeholders.
He recalled the overproduction of mangoes earlier this year, which led prices to drop to unprecedented low levels.
"Thinking only about the production is not enough," the minister said. "Farmers must learn and understand the demand of the market and build the production accordingly."
"Everyone is expecting each other [to find a solution]. But all businesses, farmers, producers, exporters and importers are a single production chain that supports the agricultural sector. While farmers have expectations on their new minister, the new minister is also excepting them to cooperate," Tina added, referring to himself in the third person.
Experts in the agriculture industry also urged the minister to support the sector, which is under significant pressure from imports from nearby countries. They hope the new minister provides a positive result to the sector.
They suggested the minister reform the working methods of officials by working closely with farmers, providing them with necessary technical assistance, and injecting more funds into agriculture to build human resources and professional officers to help farmers or provide capital loans to farmers.
"Farmers are not making a profit and find it difficult to compete with farmers in neighboring countries due to a lack of government support," told Yang Saing Koma, an expert in agriculture, in a recent interview with Cambodianess.
Dith Tina was appointed as the new Agriculture Minister after Veng Sakhon, was discharged from his position on Oct. 8 after six years in office.
Related Articles