Newly-Born Dolphin Spotted in Kampi Pool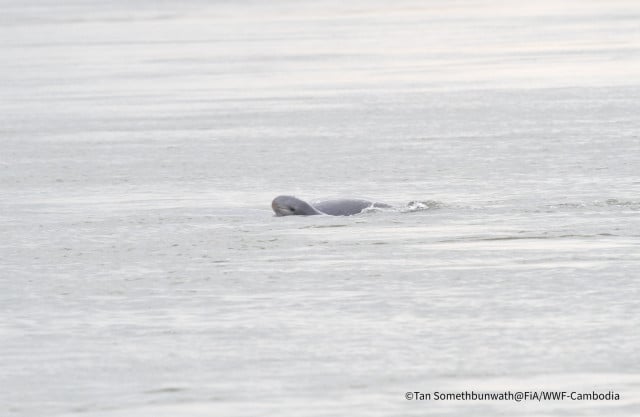 PHNOM PENH – A new dolphin calf was spotted swimming among a dolphin pod in Kampi village on April 15. This is the second baby dolphin counted in 2023.
The discovery was made by the driver of a tourism boat on the second day of the Khmer New Year. He reported it to the river guards, the Kratie provincial fisheries officer, and to the staff of the World Wide Fund for Nature (WWF) so that they can confirm and officially count them.
The number of adult dolphins swimming with the newborn was not clarified.
According to a Facebook post made by the Ministry of Environment on April 18, the provincial research group and the WWF team have been tracking down the newly born animal.
They said that the dolphin was only 3 days old when spotted for the first time.
On its Facebook page, WWF Cambodia said on April 18 that its team, along with the Fisheries Administration, is conducting photo identification surveys along the Mekong habitats in Kratie and Stung Treng provinces to update data on the dolphin population.
"The WWF congratulates the joint efforts of the Fisheries Administration of the Ministry of Agriculture, Forestry and Fisheries and WWF for this important second new record of the Mekong Irrawaddy dolphin calf in 2023," the post reads.
In early March, another newly-born dolphin was spotted at the same place, swimming with 7 to 8 adult dolphins. It was also said to be around 2 to 3 days old.
The Ministry said the working group encountered 6 baby dolphins in 2021 and another 6 baby dolphins in 2022. That same year, 11 mammals were found dead in Cambodia.
Classified as "endangered" on the IUCN red list, 89 dolphins were living in Cambodia's section of the Mekong River in 2020, compared to 92 in 2017.
A new dolphin population tally will be carried out by October 2023 by the WWF and the government's fisheries administration.
Related Articles