No China Debt Trap Problem in Cambodia: PM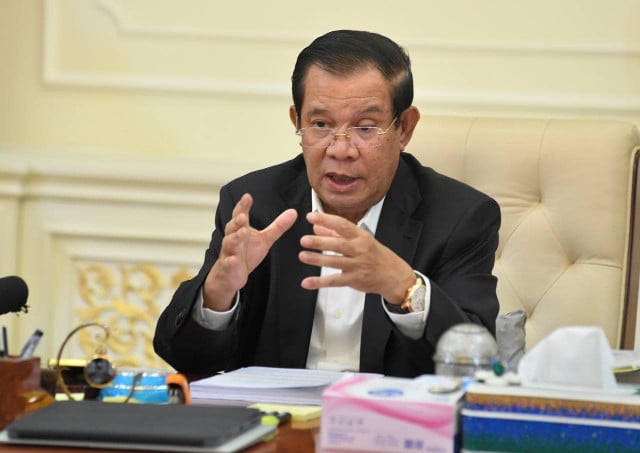 China owns 42.7 percent of Cambodia's outstanding external debt
PHNOM PENH – Cambodia won't fall into anyone's debt trap, especially China, Prime Minister Hun Sen said.
"I reaffirm that Cambodia will not be a debtor to anyone," he said on May 27 in Tokyo, Japan, while answering journalists' questions at the 27th International Conference on "the Future of Asia" under the theme "Redefining Asia's Role in a Divided World". "China is not the only country we borrow money from. We also borrow vast amounts from Japan, Korea, the Asian Development Bank or the World Bank."
Hun Sen added that his government is cautious about borrowing: while the debt ceiling stands at 40 percent of the national gross domestic product, as defined by the law on finance, public debt represents 23 percent of the GDP.
Nevertheless, according to the General Department of International Cooperations and Debt Management, Cambodian debt accounted for 24.4 percent of the GDP, as of Dec. 31, 2021.
"We still have the remaining [17 points] to borrow. It's not as if we recklessly borrow money and cannot solve the debt problem," Hun Sen said. "So, I don't think China traps Cambodia through loans."
As of June 2021, China had built eight bridges and 3,287 kilometers of roads via more than $3 billion in Chinese concessional loans, according to a Future Forum report.
While the vast majority of Chinese funds has been directed toward infrastructure, China's aid and influence can be felt across a range of sectors, the report added. Chinese-funded projects present significant challenges to transparency and sustainability and rule of law in Cambodia.
During the conference in Tokyo, the prime minister insisted that Japan is also granting Cambodia loans for infrastructural development, particularly in Sihanoukville's deep water port, but recognized that China has offered Cambodia significant loans for infrastructures or hydropower.
"I want to reaffirm that we cannot become the debtor to only China. Similarly, China has no intention of trapping Cambodia as the debtor," he said.
According to the latest Cambodia Public Debt Statistical Bulletin, China accounted for 42.7 percent of the Cambodian roughly $9.5 billion outstanding external debt, as of Dec. 31, 2021, while Japan comes second with 9.16 percent.
Hong Vannak, a business researcher at the Royal Academy of Cambodia, said that almost all developing countries are borrowing money from foreign countries and international banks to develop infrastructures, logistics' chains and human development to meet foreign investor's demands.
Vannak said that Cambodia's public debt remains low, but the country should strictly control all national income and expenses and better guarantee the repayment to creditors, so that they better trust Cambodia, allowing them to potentially lend more.
"Although China is the main single country lending to Cambodia, it also clearly controls Cambodia's financial conditions such as the ability to pay back, macro-economic management and the GDP's growth. If Cambodia doesn't meet the conditions, China won't lend either," he said.
Vannak added that, in the past, creditors could trap other countries through loans, but nowadays most countries are aware of the debt trap's risk, which damages lenders' image and reputation.
"Hun Sen's statement is true and meaningful: Cambodia doesn't have a debt problem and doesn't rely only on China to get access to funds," Vannak said. "Without enough money, we cannot build infrastructure such as national roads, bridges, or develop our electricity grid. Whether or not money comes from China, it has to come from somewhere to ensure our development," he said.
Related Articles