No Consequences for Commune Chiefs Involved in Illegal Land Sales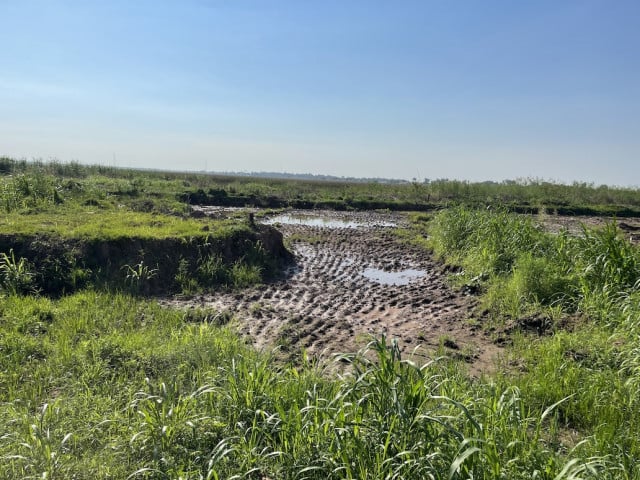 Civil society groups called for an investigation after six commune chiefs in three provinces have cancelled the sale of protected land that they oversaw, saying they were unaware of the law
PHNOM PENH--Calls are growing for commune chiefs to face harsher punishments if they sell land in protected areas after a slew of land purchases were nullified by the state after it was revealed that the commune chiefs who approved the sale were not in the position to do so.
Between May and July 2021, a number of commune chiefs have apologized and denied that they knew the land sales they approved were illegal, but while the government has considered the cancellation of the sales the end of the matter, social analysts have called for a stronger application of the law to prevent others from selling off natural resources.
In just three months, six commune chiefs across three provinces have since avoided punishment for illegally selling off land by nullifying documents that they had signed to authorize land sales. In Kampong Speu Province, Keo Sophat, chief of Treng Trayeung Commune in Phnom Sruoch District and Tep Nem, chief of Trapeang Cho Commune in Oral District, both escaped any consequences for their involvement of illegal land sales.
Meanwhile, in Kampot Province, three commune chiefs—Chhouk Pho, chief of Koh Touch Commune, Moul Sokhom, chief of Boeung Touk Commune and Kong Bunra, chief of Prek Thnaot Commune—all cancelled documents they'd signed, saying that they were unaware the land deal they had overseen was illegal, as did Taem Thorn, chief of Koh Commune in Kampong Thom Province.
Keam Seaklong, a real estate advisor at the Cambodian Valuers and Estate Agents Association (CVEA), said the abrogation of land sales authorized by commune chiefs could serve as a lesson for real estate investors, many of whom he said had lost investments and had their reputation damaged by becoming involved in land sales that were later voided.
"To prevent this issue from happening again, citizens and investors need to study the information thoroughly," Seaklong said. "Before buying or selling land, even if the document is issued from the authorities, please review it thoroughly."
Both Cheav Tay, governor of Kampot Province and Vei Samnang, governor of Kampong Speu Province, declined on the matter, saying they were busy with meeting. Kampong Thom Provincial Governor Sok Lou also declined to comment, telling reporters to directly contact the commune chiefs responsible for the illegal land sales.
But while provincial authorities refused to become embroiled in the matter, Am Sam Ath, deputy director of rights group LICADHO, said that commune chiefs who'd been involved should not be able to escape justice so easily by simply abrogating the documents they'd signed. He called for them to be punished and prosecuted for their involvement in land sales.
"There is no such thing as signing then rejecting [what was signed] with no responsibility," Sam Ath said. "Lack of understanding of the law is an inappropriate reason because local people rely on local authorities."
These sentiments were echoed by Lao Mong Hay, a political analyst, who said that the behavior of these commune chiefs results in a diminished level of trust on behalf of the citizens that voted for them, adding that it reflects poorly on the political parties the commune chiefs represent.
He called on the commune chiefs who had broken the law to sell protected land should at least have the courage to resign immediately, but he said that commune and district councils should also bear responsibility for the actions of commune chiefs.
"The Ministry of Interior must also be responsible for the mistakes and shortcomings in the performance of the public officials under its supervision," Mong Hay wrote on his official Facebook page. "The Ministry of Environment and other ministries must also be responsible for the lack of coordination for their subordinates to understand and follow the relevant laws in their respective fields and competencies."
Responding to the criticism, Interior Ministry Spokesperson Khieu Sopheak said that there was nothing strange about the nullification of documents in land sales, adding that this was one of the many rights the authorities had.
"What we do wrong, we can delete. There is no need for the supervisors to delete for us," Sopheak said. "For example, when the municipal authorities make mistakes or issue the wrong letters, they can delete it themselves. There is no need for the ministry to do it for them."
When asked why none of the commune chiefs involved had faced any kind of consequences, Sopheak rejected the idea that they should, saying instead that they lacked an understanding of the law which had been addressed by the Ministry of Environment.
"If people want to take legal action against those commune officials, they should file a complaint through the administrative court," he added.
Neth Pheaktra, a spokesperson of the Ministry of Environment, could be contacted for comments.
LICADHO's Sam Ath called on the government to carefully investigate this issue by taking legal action impartially, adding the investigation should be done with transparency so that citizens would not lose more faith in the authorities.
"Regarding such inappropriate or incorrect signing, we, the civil society, request a clear investigation," he said.
Additional reporting by Teng Yalirozy
Related Articles