No Flights Available for Cambodians Stranded in Malaysia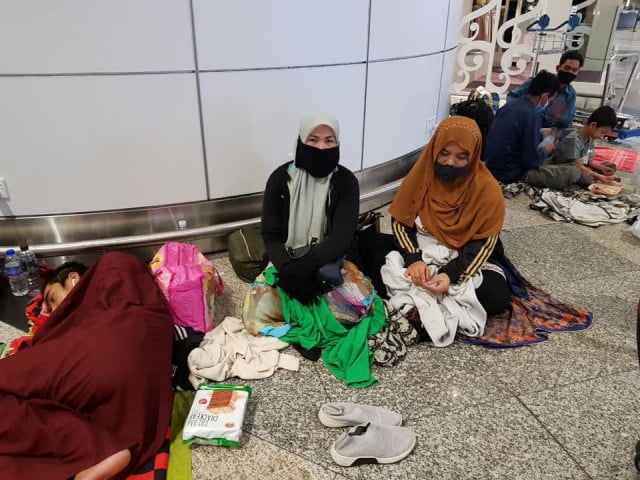 Phoung Vantha
June 1, 2020 8:35 AM
Despite being given the green light to return without paying for a COVID-19 test, there remains no available flights from Malaysia to Cambodia.

PHNOM PENH--The 150 Cambodian migrant workers and students who had been working and studying in Malaysia remain stranded amid the Coronavirus Disease 2019 (COVID-19) pandemic. At this time, it appears no flights to Cambodia are available, prompting civil society groups to call for the repatriation of those Cambodians still stuck abroad.

Sin Chansereyvutha, spokesperson of the State Secretariat of Civil Aviation, said that Cambodia and Malaysia may not resume flights until July 2020, adding that the Cambodian government has no plans to arrange a chartered flight at this point.

"They need to wait for a flight to resume. This is also a concern of the government," he said.

On May 29, a joint appeal was issued by 33 civil society organizations urging the government to assist the 150 Cambodians stuck in Malaysia.

"We, the undersigned civil society groups, call on the Cambodian government to immediately and safely repatriate a large group of Cambodian nationals currently stuck in Malaysia," the joint statement read, with signatories ranging from local Cambodian and Malaysia-based organizations, as well as international advocacy groups.

The statement noted that the Cambodians were among other passengers scheduled to fly from Kuala Lumpur, Malaysia to Phnom Penh on April 7, 2020. It was only upon arrival to the boarding gates that those Cambodians were informed by the airline that the Cambodian government had denied their entry to Cambodia. It is unclear whether any of the Cambodians have received a refund for the flights purchased.

"Denying entry to 150 Cambodian citizens in this situation cannot be considered reasonable, especially considering there are less restrictive alternatives, such as allowing them to return to Cambodia and placing them in a mandatory two-week quarantine period upon arrival. Such an approach has proven effective in stopping COVID-19 transmission in many other countries during the pandemic," the statement read.

On May 27, Prime Minister Hun Sen declared that returning Cambodian citizens did not have to comply with the requirement for new arrivals in Cambodia who will have to possess a COVID-19 health certificates.

During this time, the 150 Cambodians have complained of the hardships they face in Malaysia while stranded and unemployed. Testing for COVID-19 costs about $150 in Malaysia, so they do not have the money to testing or for new flights.

Foreign Affairs Ministry spokesman Koy Kuong could not reached for comment on the June 1.

On May 25, the Cambodian Embassy in Malaysia released a statement, claiming that the embassy was negotiating with the Malaysian government and Malaysia Airlines to get the migrants back to Cambodia.

The embassy denied all allegations made by migrants, accusing them of incitement to discrimination aimed at destroying the embassy's reputation. The embassy specifically named two migrant workers, Marn Pukry and Math Torsry, according to the civil society organizations' statement.


Related Articles