No Road Construction to Replace Hiking Trails at Khnorng Phsa Mountain, the Authorities Say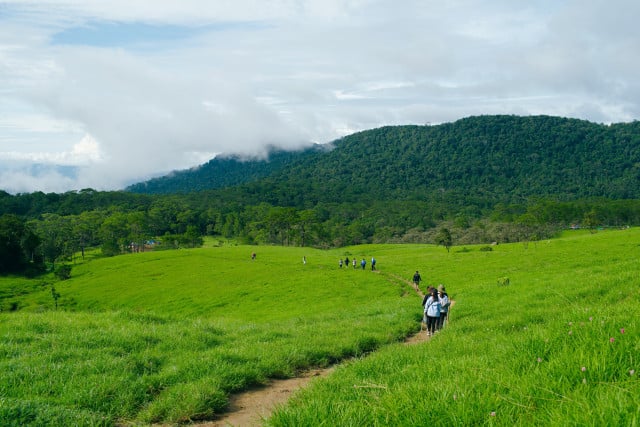 Local community representatives fear they will lose their income if development takes place, marring the natural setting of the mountain
PHNOM PENH— Vey Samnang, governor of Kampong Speu Province, has denied rumors regarding the construction of a road up Khnorng Phsa mountain, saying that the hiking trails will not be replaced by a road for vehicles.

"There is no project for the construction of a road up Khnorng Phsa," he said on April 4. "How could we do that since it is a nature area. Tourists come to Khnorng Phsa to go on hiking adventures. Therefore, if the road is constructed, it is no longer called an adventure."
Samnang's comments came in response to rumors that have spread over social media that there are plans to build a road to allow tourists to go up to mountain in cars or on motorcycles, and calling on the authorities to put off such plans as Khnorng Phsa mountain is a nature-tourism area where people come for trekking and exploring the natural environment.
Hun Sao, head of the Rolak Kang Cheung community in the Khnorng Phsa area, said that the governor's denial that a road was planned has reassured people in his community who would lose their livelihood if a road was built.
Tourists who like adventures in the wild, hiking and camping have become a crucial source of income for people in the community who now provide tourism services such as cooking, backpacking, transportation and serving as guides for visitors, he explained.
"Most people here depend on incomes generated from these tourism services for their livelihood rather than from farming," he said on April 4. Since ecotourism is what attracts visitors to the area, there is no reason for the administration to build a road up the mountain as this would drive away those tourists, Sao said.
The governor saying there are no plans to build a road has reassured people in the community, he said. So far, he explained, " I have not seen construction of a way up for cars or motors; they have done nothing.
"But there is electricity: They are putting poles for light near the trail up the mountain. So, I'm not sure what is going on," Sao said.
According to Vey Samnang, the provincial authorities continue to safeguard Khnorng Phsa mountain and ensure that it remains an area for ecotourism where people can come for exploring and hiking. To help support this, he said, the provincial administration, in cooperation with the community, has built six restrooms in the Khnorng Phsa area to accommodate visitors.
Related Articles