North Korea's Missiles Threaten Peace, PM tells South Korean Envoy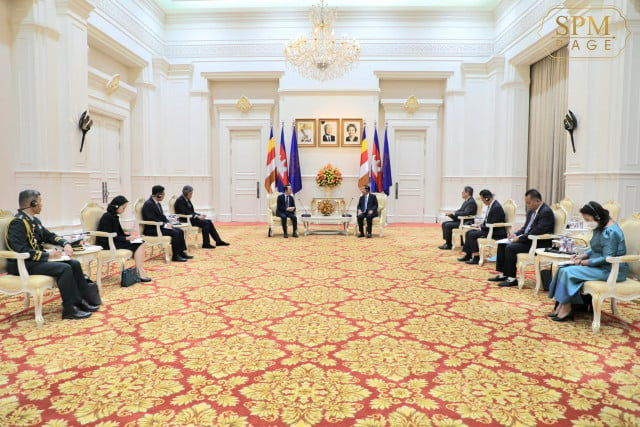 February 21, 2023 11:55 AM
PHNOM PENH – Prime Minister Hun Sen told South Korean Envoy on Feb. 20 that recent missile tests by North Korea violate a U.N. Security Council resolution while threatening peace and security in the region and the world.
The Pyongyang regime test-fired multiple missiles in 2022 and fired two ballistic missiles on Feb. 20, 2023. Nearly 48 hours earlier, it also tested an intercontinental ballistic missile. Such tests are banned under several U.N. Security Council resolutions.
The most important one is Resolution 1718, adopted in October 2006. Following North Korea's first nuclear test on Oct. 9, 2006, it demands the country refrain from further nuclear or missile tests, and decides North Korea shall suspend all ballistic missile activities, as well as abandon its nuclear program in a "complete, verifiable, and irreversible" manner.
The resolution also led to the establishment of the 1718 Committee, which produces regular reports to the Security Council on the status of the sanctions and enforcement.
Additional Security Council resolutions on North Korea were adopted later on and served to extend the 1718 Committee mandate.
In a meeting with the South Korean Ambassador to Cambodia Park Jung Wook on Feb. 20, Hun Sen said that Cambodia has condemned all the recent test launches.
"The missile launch violated a U.N. Security Council resolution and has escalated tensions and threatened security and peace on the Korean Peninsula and around the world," he wrote on his Facebook page.
Park also informed the Premier of concerns over North Korea's missile launch, which is a threat to peace for both the Korean Peninsula and the world.
The South Korean Envoy said the ties between Seoul and Phnom Penh have improved gradually despite the pandemic and two-way trade volume between the two countries reached $1 billion in 2022.
According to Park, South Korea is the second largest investor in Cambodia while the free trade agreement and the double taxation agreement encourage more South Korean investors to come to Cambodia, particularly by avoiding double taxation with respect to taxes on income. Both agreements entered into force in December 2022 and January 2022, respectively.
Hun Sen expressed his appreciation that South Korea had not halted flights to Cambodia during the pandemic which shows its consistent attitude towards the country.
He also thanked the South Korean government for allowing Cambodian workers to work there as well as for providing assistance for the construction of a bridge across the Tonle Sap and Mekong Rivers in Phnom Penh.
Cambodia and South Korea established diplomatic relations in 1997.
Related Articles