Noteworthy Strategies in Operating an Architecture Firm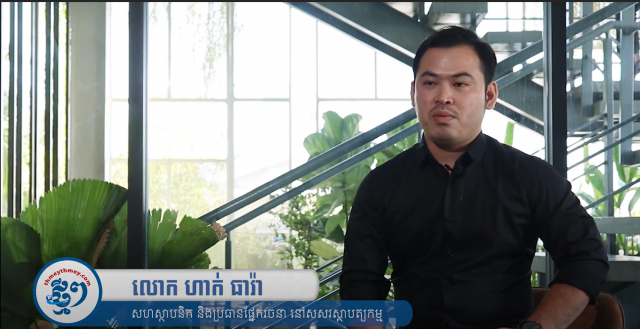 KOUPREY Creative Solutions
January 27, 2021 6:04 AM
"It is very crucial to keep strengthening our services by providing high-quality works and trying to understand the clients' needs so that we could win our clients' hearts for every project," says Hak Theara, Co-founder and Design Director at Sorsor Architects.
Cambodaness: first and formost can you tell us more about SORSOR Architects?
Hak Theara: SORSOR Architects is an architecture and interior design studio, and we are committed to creating space that is memorable and functional for our clients by incorporating the key elements of unique aesthetic design, local contexts, as well as human nature connection. Within our core services in architecture, interior, and landscape design, we have helped clients from various sectors such as commercial center, café, restaurant, hospitality, office, and housing.
Cambodianess: Could you share with us what prompted you to embark on a journey and why did you choose to start a business in the architecture sector?
Hak Theara: I am very interested in the architecture sector since I was knee-high to a grasshopper. Therefore, after graduating from the Royal University of Fine Arts (RUFA) in major of Architecture and Fine Arts, I and my friend, Mr. Sao Pholreaseyh, established SORSOR Architects in 2015 and we truly believe that the company will partly contribute to the development of the country, by providing the attractive, high-quality, spiritually uplifting architecture for the community and Cambodia as a whole. Additionally, it would ​help create more job opportunities for Cambodian youth, especially new designers.
Cambodianess: It has been a long journey so far and how did you feel about it?
So far, it has been six years since the inception of SORSOR Architects and I feel over the moon to see that we gained a lot of clients and all of them felt very satisfied with our design and appreciated our services. Moreover, we are pleased that we could help our clients' businesses get successful through our architecture and interior design.
Cambodianess: How can your business contribute to social development and environmentally friendly awareness in Cambodia?
Generally speaking, architecture is very significant for social development and eco-friendly awareness in Cambodia. SORSOR Architects could help promote social development and eco-friendly awareness through our sustainable architecture design and we are always aware of how to minimize the negative effects of architecture on the environment.
For instance, we designed the office space, by reducing the energy consumption and using environmentally harmless construction materials. Moreover, we integrated our design with evergreen space, where people could let their hair down, and we hope that we will be able to contribute more in the future.
Cambodianess: Can you tell us what are the pressing challenges you have encountered? And what strategies do you deploy to efficiently manage your business?
Hak Theara: As a startup, there are a lot of problems we need to deal with ranging from financial stability to ensure competitiveness. In my experience, running a business is very challenging and we need to keep thinking of potential strategies. Therefore, firstly, to get rid of these problems, we should have a business partner, with whom we can share responsibilities and delegate tasks.
Secondly, cash flow or financial management is what we must think of carefully to maintain the ongoing operation of the business, especially a startup because in the first place of SORSOR architects, we don't have much money. Therefore, we need to expressly know how to utilize our money and resources effectively and efficiently. Hence, I would like to take this opportunity to express my thanks to my business partner, Mr. Sao Pholreaseyh, who could potentially manage our cash flow.
Last but not least, staff management and company structure are what we must explicitly deliberate and cultivate. Therefore, we divided them into two teams—operation management and design team. As being a design director, I could say that design management at SORSOR Architects could be considered a success because most of our clients excitedly expressed their appreciation and satisfaction with our design works.
Moreover, managerially speaking, our team could quickly comprehend the needs of clients, responsibilities and understand each project clearly that's why they could generate a beautiful and high-quality design for clients.
Cambodianess: Speaking of employee management, how do you effectively unlock the potential of your employees?
Hak Theara: To unlock the potential of our employees, I initially think that leadership plays a key role to motivate our team and lead every project smoothly and successfully. As being a team leader, I always kept my eye on them and gave advice whenever they faced any challenges or problems. Additionally, we continuously created a comfortable working environment, where everyone could learn, share, and work closely with each other.
For example, at our workplace, we provided sharing sessions for the whole team to learn from each other, and sometimes, we invited experts and suppliers to share knowledge in the development of new architecture and interior materials for our team. Moreover, offering a site-visit and architecture tour are eye-opening opportunities for them to explore more into architectural design and construction as well as to learn from other successful architecture projects.
Besides, I think that reward and motivation are also imperative for everyone. Thus, we always give reward and recognition to potential staff to encourage them to maintain their good performance and it could be a good example for other staff to follow. Additionally, giving more motivation to the team is very influential to bolster our team's commitment and inspiration for working with our company. In this case, if our team members have very good performance, we will consider promoting them or we can negotiate based on their needs.
Last but not least, we always inculcate the team spirit and value in every work, by making them feel that they are a part and future of our company.
Cambodianess: How do you manage the business to stay competitive in the markets?
Hak Theara: Recently, in Cambodia, the architecture and interior sectors are increasingly flourishing year by year. Therefore, firstly, it is very crucial to keep strengthening our services, by providing high-quality works and trying to understand the clients' needs so that we could win our clients' hearts for every project.
Secondly, generating more innovative and ground-breaking ideas is a motivational factor for our clients to choose our company among the crowd. Also, keeping our eye on the new trend is a key strategy to make our company stay competitive and leading-edge in the architectural market.
Thirdly, under any circumstances, especially the COVID-19 pandemic, the marketing strategy must be ongoing to build our brand image and increase sales. To achieve our marketing strategy, it is vital to maintain regular communications and good relations with clients, by keeping them updated with our project portfolios and showcases so that they could understand our company's capabilities and potential.
Last, the business extension is very important because it would be hard for us to survive by staying on only architecture and interior design. Thus, this year, SORSOR Architects extended our service in the architectural building, which could allow clients to know more about our company.
Cambodianess: What should be your advice for those who are enthusiastic to launch a startup like you?
Hak Theara: From my experience, running a business is not easy but nothing is impossible. Therefore, I would like to recommend those, who are fascinated to run a business, that they should initially pave their path to gain more working experience in architecture, aiming to know more about the communications and design process with clients so that they could properly understand some strategies and techniques in operating their own business easily.
Secondly, it is important to fully comprehend the business market, by identifying the potential field that your business should focus on.
Thirdly, they should prepare a business plan to know their business path and to segment their desired target audience so that they would clearly understand what kind of service they should provide in the market.
Fourthly, the financial budget is the heart of a sustainable business operation. Therefore, it is very indispensable to carefully consider and prepare a budget plan in the long run of the company. Having knowledge in managing cash flow and finance effectively and efficiently will help them minimize risks and let them understand how to keep their business survive in any unexpected situations and financial crisis.
Fifthly, they should find at least a business partner to launch a startup and delegate tasks and responsibilities properly so that they could have a person to consult with when a problem happens.
Sixthly, generally speaking, it might be very difficult for a new startup to grab the client's attention and trust in the first place; therefore, it is highly recommended to create more portfolios and showcases, aiming to display the achievements of your company for the public.
Last but not least, building more connections is very significant for every business so that they can convert all of those networks to be their potential clients in the future.
Related Articles