Novel Explores Teen Family Tensions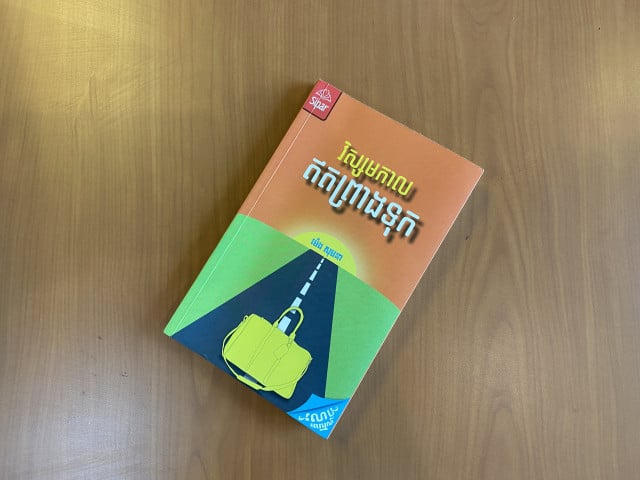 'Unplanned Journey' is writer's first major work
PHNOM PENH--Bored and surrounded by complexity at home. Hurt at school. Is there a place in the world for Navin? All this is almost unbearable for the 16-year-old main character in "Unplanned Journey".
Published at the end of 2021 by Literacy NGO Sipar's book group in its Loam Arom range of titles, "Unplanned Journey" is the first novel by Meng Somnea who was born in 1982 in Kampong Cham province.
She now works for a tour company after gaining work experience in the fields of reading and health.
Somnea has loved reading novels since childhood and used to write works for young children but this is her first long work for publication.
Ung Chamroeun: What is the main idea in "Unplanned Journey"?
Meng Somnea: I would like to thank Cambodianess for giving me the opportunity to share my experiences surrounding writing "Unplanned Journey". The main idea is that families always have problems but all problems can be solved if family members learn to understand each other, share, forgive, accept the truth and solve them together without running away from the issues.
Ung Chamroeun: Have you ever run away from home, inspiring you to write this story?
Meng Somnea: I have never had the experience of running away from home, but I have known people who ran away from home as teenagers, and I have heard and read a lot of information related to running away from home. I always try to find out the reasons that led to such a decision.
Ung Chamroeun: The issue comes from ignoring one person in a family by not talking to each other. What is the main message that Somnea wants to remind us about?
Meng Somnea: Indifference in the family always happens, sometimes not regularly, but at a certain time and does not seem to be a big deal, but it will ultimately lead to tragedy if it happens at a time when people most need empathy and care from people close to them. We all cannot deny that the people we love the most are our family. When we are unhappy or desperate, if our family understands us and gives us strength, we will be relieved and warm. On the other hand, to find happiness in a family, there are many factors, including sharing, encouraging each other, tolerance and giving advice. These are important because they will bring family members warmth and make living together enjoyable.
Ung Chamroeun: This story was written during the Covid-19 outbreak, and there are scenes about the characters as well as the plot. How did you describe those situations in detail?
Meng Somnea: To describe the situation related to Covid-19 in this story, I read news, both national and international news through various publications. In addition, I asked for information from those who had undergone quarantine and then used my imagination to create the scenes.
I would like to emphasize that although I have included real events in the story, I also mixed them with fiction. For example, during the time on Koh Trong there were no cases of this disease, but because I chose Koh Trong to be the setting for the story, I created a story related to this disease in Koh Trong.
Ung Chamroeun: Indeed, the story describes the beauty of Koh Trong in Kratie, did you go there yourself or was it a result of research?
Meng Somnea: I love the beautiful scenery and the friendliness of the people of Koh Trong and also like the food over there. I have been there twice and from the tourism industry, I can say that Koh Trong is highly appreciated by international tourists. At the time of writing, I also asked for information from Koh Trong from friends who have visited Kratie and Koh Trong, and researched some points on the Internet.
Ung Chamroeun: Why did you write this first book?
Meng Somnea: I have loved reading novels since I was a child. I still remember the first story I read, "Tears of a Border Woman or Tears of Holinda," when I was just seven years old, and I found the manuscript in the paper which my mother bought for packing.

At that time, I gradually read the characters, the tears flowed and I continued to read novels until I was older. In the past, I have written some stories, and I used to attend writing courses for young people and read literature written by foreign writers and was eager to try writing stories for young people because they have many problems that should not be overlooked.
When I saw Sipar announcing the creation of a new group of books for this age and choosing works for publication, I decided to take part in a contest. I would like to take this opportunity to express my deep gratitude to Sipar for giving me the chance to practice writing and work with book experts in the production of each book. Before publishing a book, we have to work a lot on it and spend a lot of time, but I guarantee that the pleasure we get when the book is published make us feel like we have done something very valuable.

Ung Chamroeun: Many people have a passion for writing but not a clear commitment. What do you say to encourage them?

Meng Somnea: I encourage those who enjoy writing and wish to publish their writing, do not hesitate to contact your favorite publishing house. Do not be afraid to get bad results because the publisher will work with us carefully before deciding to publish. I think as writers we just do our best to write each story and listen to the publishers' suggestions. Once our storybook is published, the comments of our readers will be great feedback for the development of our writing in the future.

Translated by Sam Sopich
Related Articles