Of Books and Reading during COVID-19: How to Make This Fun and Captivating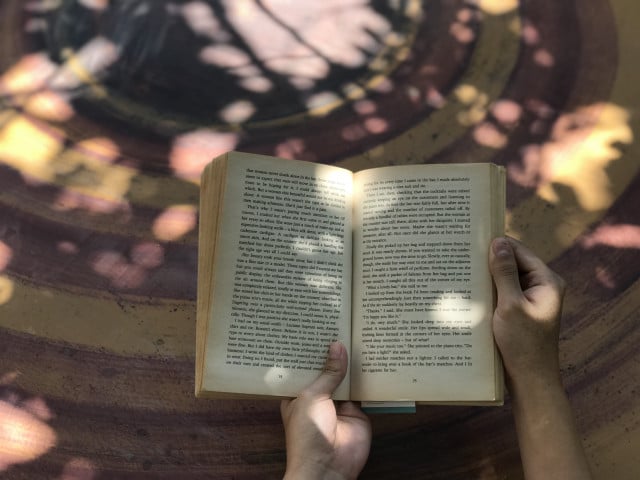 Sao Phal Niseiy
April 25, 2020 12:36 PM
University students share tips about what and how to read for people to enjoy

PHNOM PENH—The Novel Coronavirus (COVID-19) might have become an omnipresent cause of damage and put enormous stress on all of us. But while turning daily life upside down, some positives have unexpectedly appeared. One of them is that, suddenly, people can do something they rarely have had time for: reading.

Reading habit has not been well-rooted in Cambodian society, and it has long been suggested that this habit needs to be cultivated among today's youth and children.

Despite its negative social and economic impacts, a pandemic such as this coronavirus is igniting hope of instilling a reading mindset in the country as more young Cambodians have found they have time to read during this social-distancing phase.

"The pandemic has allowed me to work from home, giving me more time to read during the day," said Chou Vithoureakborndidh, who recently graduated in international relations at university.

To him, reading is the safest activity during this time and the best way to expand knowledge.

"Staying at home and reading books are the best combination," Vithoureakborndidh said. "You're safe when you're at home and, at the same time, you broaden your understanding by reading books. It's a win-win situation."
The photo shows Chou Vithoureakborndidh is reading "Dictator's Handbook" by Alastair Smith and Bruce Bueno de Mesquita (photo supplied)

Huy Roseka, who is a university student, admits that she could never catch up on as much reading as she wanted. That is, until she was urged to do self-isolation. "I like reading and reading has been a habit of mine. But the problem is I can't manage time.

"But since the coronavirus outbreak, I feel I have more productive reading time. I can read more," Roseka said. In fact, she has finished 10 books since starting self-isolation.

Another young Cambodian who currently is a senior student majoring in international studies, Pen Socheata agrees that she may have more time to read in spite of having an unprecedented virtual-studies load at university.

"Given that school's assignments and procrastination are the case, without the pandemic it is quite hard to keep the momentum in reading," Socheata said.
Bookworms share their thoughts on why people should change their mindset about reading
While everyone's daily routine has been abruptly changed with reduced socializing and pursuing self-isolation, many may still have difficulty coping with reading as it is perceived as time consuming.

Youk Menglong, a university student and bookworm who has been devoting most of his time to reading, agrees that reading can be demanding and challenging but believes that people should look into the benefits it brings and ways of making it less serious.

"We might think that reading is not on our list of entertainment as it is usually counted as a duty or something similar to work," he said. "But it does not have to be this way.

"While it is true that reading can be demanding and requires determination when it comes to textbooks or science and mathematics lessons, other types of reading can be less serious," Menglong explained. If people were to choose books in genres they enjoy, this could be key in helping them develop a reading habit, he said.
Socheata's tip to help people take to reading is something she often does herself. She suggested that people skip parts of books they really don't find interesting and go to parts they enjoy. "Normally, I think I read several books at the same time, depending on my mood," she said. "I skip some parts [in books] if…they don't spark joy when reading."

According to Menglong, reading will turn enjoyable for people and make them feel that it feeds their curiosity if they select books that match their interests. "While reading a book, we could stumble upon something that is new to us, making us curious about that particular point, and eventually pushing us to find out…more about it," he said.

Reading can also present readers with different points of view which, to a certain extent, may enhance critical thinking, thereby contributing to people with broader views and a vibrant society.

"With evidences and new information put forward by books, we can be an informed citizen in society," Menglong said.
Related Articles