Omicron Cases Surge Sees Medical Waste Volume Rise Again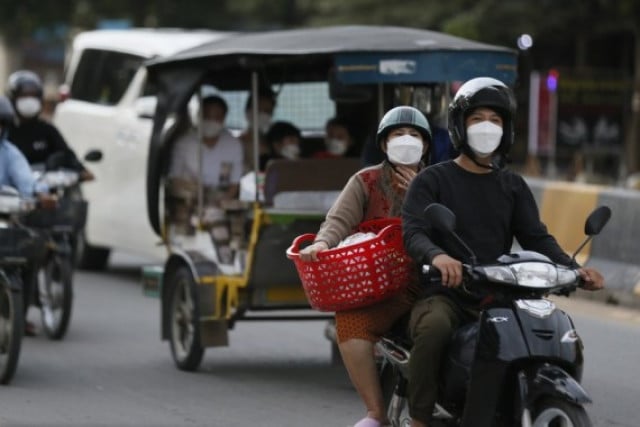 The severity of Phnom Penh's COVID-19 outbreaks can be measured by the volume of COVID-19 waste collected and incinerated by the Medical Waste Management Unit, who said waste is steadily rising again

PHNOM PENH--The Medical Waste Management Unit warned on Feb. 9 that recent surge in cases of the Omicron variant of COVID-19 has seen the volume of medical waste rise sharply.
So Simarong, deputy director of the Cambodian Red Cross-managed medical waste unit said that the volume of waste had dropped in December 2021, but now the volume is on the rise again as Omicron takes hold in Cambodia.
On Feb. 8, Cambodia registered 223 new cases of Omicron, 218 of which were transmitted locally while five were imported, but these figures only include PCR test results and while the Ministry of Health has threatened punishments for those who do not report testing positive at home on rapid tests, there is no data to suggest how many people have done so or whether they are included in the official count.
Despite this, Simarong said that, so far, the rise in medical waste has not been significant or unmanageable, but it will mount up if cases continue to rise which risks the volume of waste outstripping his unit's ability to properly dispose of it, as was seen last year.
"The amount of waste declined because Omicron has only just emerged in the country," he said. "People can cure themselves at home while there aren't many quarantine centers anymore. However, the waste can increase again if the cases remain high and people are careless about COVID-19 as well as medical waste."
Recently, the contracts between the Medical Waste Management Unit and some clinics have been terminated as there is less waste, unlike when the COVID-19 outbreak was at its peak last year, Simarong said.
"Although people can treat the disease at home, they should carefully manage their waste," he said. "They can contact the unit and have their waste collected without making any contract with the unit."
Simarong said that he only received four or five phone calls a day asking for the waste trucks to pick up COVID-19 waste. In the past, the waste collectors collected 20 tons of waste and most of the staff were permanently exhausted, he said, adding that now the work burden for the workers has eased.
He couldn't give exact figures as to how much the volume of waste has declined by, but said it's notably lower and the situation was better.
Prime Minister Hun Sen on Feb. 9 released an audio message warning that while Omicron appears less severe than COVID-19 variants such as Delta or Alpha, it can spread easily from Phnom Penh—where most cases appear to be currently—to the provinces.
If cases continue to rise, Hun Sen said, then mass gatherings, weddings and other celebrations will need to be postponed.
"We are not doing this as a step backward, but to prevent possible catastrophes as the Omicron is spreading in Phnom Penh," he said. "We have succeeded so much already, so we cannot fall back. Vaccines are crucial in protecting life and combating the disease."
The first case of the Omicron variant of COVID-19 was found in Cambodia on Dec. 14, 2021. The disease was detected in a 23-year-old Cambodian woman returning from working in Ghana, but the recent surge in cases comes just a week after Lunar New Year.
The Ministry of Health has been urging people, who have received their two doses of the vaccines, to get their booster shots and the fourth dose.
Cambodia has a total case of 122, 206 with 3,015 people having died and 118,344 recovered.
Related Articles