One more Irrawaddy dolphin is found dead along the coast of Cambodia in Kep province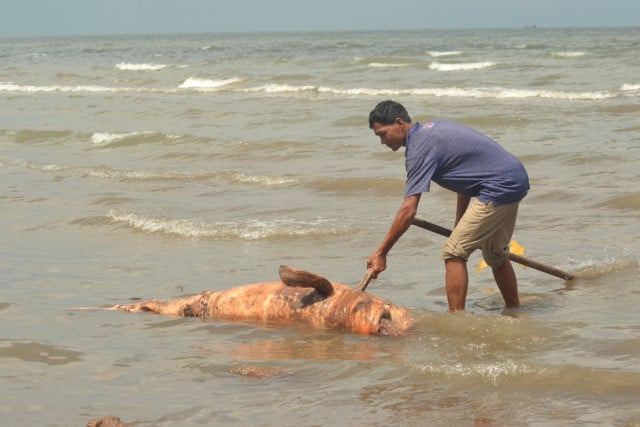 Thmey Thmey
May 21, 2019 10:06 AM
The carcass of an Irrawaddy dolphin is discovered off the shore in Kep City

PHNOM PENH--The Cambodian Marine Mammal Conservation Project, which is a part of Cambodian NGO Marine Conservation Cambodia, said in a Facebook post that a dead Irrawaddy dolphin was found off the shore in Kep City last Saturday, reducing even more the population of this critically endangered species.
Sarah Tubbs, the Head of Marine Mammal Research of the project, told Thmey Thmey that the dolphin had recently been seen healthy and that what caused its death remains unknown.
"We can't determine the cause of death as we are not vets, but we can say that the dolphin looked healthy," she said, adding that its stomach contained small fish bones, no parasite and had a thick layer of muscles below the skin.
Tubbs, who has been researching Irrawaddy dolphins in the Kep Archipelago for 18 months, said that the numerous threats the dolphins are facing in the area include "illegal trawling and electric fishing."
Located on the Gulf of Thailand in southern Cambodia, the province of Kep has been known for its small population of Irrawaddy dolphins, which is a rare species.
But the recent death of several dolphins is causing great concern among marine conservationists. Over the last 18 months, the NGO has found six dead dolphins.
At this point, there is no definite information regarding the number of the Irrawaddy dolphins off the coast of Kep province, Tubbs said. But, she added, "there are around 50 individuals, 36 of which are identified to be adults including six juveniles [dolphins]."
Irrawaddy Dolphin populations are found in both fresh and saltwater in Cambodia. There currently are less than 100 in the Mekong River where, according to the World Wildlife Fund, fishing nets represent a critical threat to their existence.
*This article was modified to correct the name of the NGO on May 21. The Cambodian Marine Mammal Conservation Project is a part of National Cambodian NGO, Marine Conservation Cambodia.
Related Articles