One More Rare Banteng Is Killed in a Hunter's Trap in Cambodia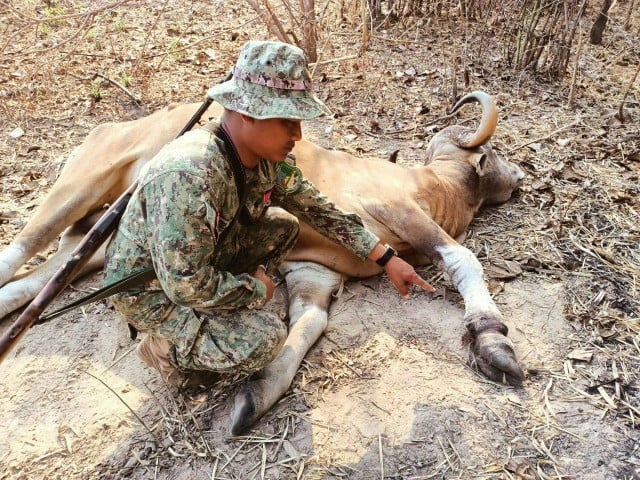 Ou Sokmean
February 21, 2021 9:16 AM
The animal died in a wildlife sanctuary in Preah Vihear Province
PHNOM PENH--A banteng was found dead on Feb. 19 in an illegal hunter's trap in a protected forest of Preah Vihear Province, according to a Ministry of Environment official.
The animal weighing nearly one ton died on Feb. 18 from infected wounds in the Monks Community Forest in the Oddar Meanchey Provincial Wildlife Sanctuary, said Net Pheaktra, spokesperson for the Ministry of Environment. The animal's carcass was discovered the following day, he said.
The banteng has been described by the Wildlife Alliance as elusive, wild, rare and almost mystical. "The death of [a member of] this rare species is a very distressing memento for the Environment Ministry as well as for Cambodians," Pheaktra said, adding that the banteng had been properly buried following the local tradition.
The population of bantengs in Cambodia is estimated to be somewhere between 2,700 and 5,700, he said, citing the ministry's official data. This makes Cambodia home to one of the largest populations of bantengs in the world—the global population of the species is believed to range between 5,900 and 11,000 animals, Pheaktra added.
However, the International Union for the Conservation of Nature (IUCN) suggests that the number of bantengs has markedly decreased as only 4,000 to 8,000 mature bantengs had been identified globally in 2014. The banteng has been placed on the IUCN's Red List as an endangered species.
According to the World Wildlife Fund, poachers' snares and traps remain one of the greatest threats to wildlife and especially to the banteng, wild pig and gaur. In 2020, more than 10 bantengs and gaurs were reportedly killed in traps and snares in Cambodia.
Over the last 10 years, more than 200,000 snares have been removed in Cambodia.
Related Articles