ONiON Mobility Factory Officially Launches Its Electric Three-Wheeler Assembly Plant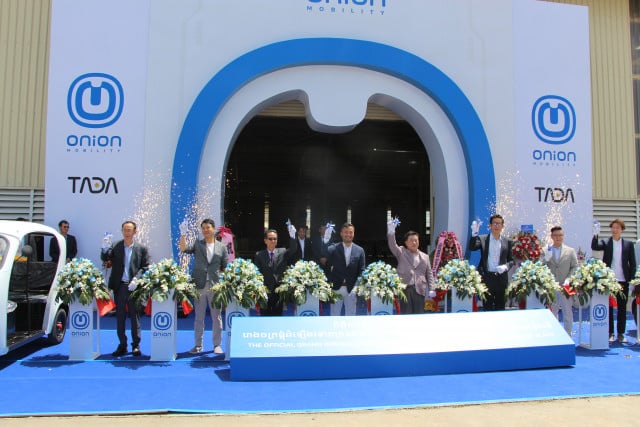 As an increasingly attractive destination for foreign investment, Cambodia is also committed to global and regional climate goals. The country is therefore moving towards enabling a dynamic environment for green projects and development.
In a move to reduce carbon emissions and the use of gas-powered vehicles, Electric Vehicles (EVs) were included in the country's national transport policy. The Government of Cambodia is accordingly making further efforts to promote the use of Electric Vehicles (EVs) and clean energy, as well as the development of charging infrastructures and battery swap stations to foster adoption of electric vehicles by Cambodians.


Assembling and exporting Electric Vehicles abroad could also help position Cambodia emerging global and regional supply chains for EVs.
May 24, 2022, was a great day for ONiON Mobility Co., Ltd. which officially inaugurated the ONiON Mobility Factory. The ceremony took place at the electric motorcycle and electric three-wheeler assembly plant, where $20 million were invested. Located in an area of roughly two hectares in the Suvannaphum Special Economic Zone, Kien Svay district, Kandal province, the ONiON Mobility Assembly Plant will be providing hundreds of job opportunities to Cambodian people, with a planned production of 3,000 units for 2022-2023.


The inauguration was attended by more than 400 people, including H.E Tea Chup secretary of state at the Ministry of Environment, investors from Korea and Singapore, local and international business partners of ONiON Mobility, celebrities, local and international journalists. Distinguished guests from partners were also present, such as: CTR, SVInvestment, TADA, Shinhan Bank, PTT Cambodia, TotalEnergies, Smart, Prince Bank, Fairplus Supermarket and Circle K.

Simultaneously with the inauguration ceremony, MVL Energy Investment Company (ONiON Mobility Co.Ltd.) signed a Memorandum of Understanding with CTR Company on the "Development Project for Micro Electric Cargo Truck With Reuse Battery Packs" to promote the use of electric vehicles.


Mr. Kay Woo, Founder and CEO of ONiON Mobility said during the signature of this MOU and the inauguration ceremony that "we are preparing the full EV service, from bikes to three wheelers with onion megastation. Now we are getting into the utility version of the four wheeler. Our mission is clear: changing Cambodia into an EV nation!"
It is also to be noticed that ONiON Mobility Co., Ltd. is a company with an electric motorcycle and electric three-wheeler assembly plant, which can increase the production of EVs and provide more than 500 jobs by 2025. The company officially established its megastation, three other battery swapping hub stations, and six more partner hub stations. It will soon expand its megatations and hub stations in Phnom Penh and to potential provinces across Cambodia.

During the event, Chairman of CTR Group said: "I am Kang Tae-ryong, CEO of Central Group. Today, we sincerely congratulate MVL for the launch of its new ONiON Mobility plant. CTR met with MVL for the first time in 2019, where MVL is a free mobile travel booking app in Southeast Asia. It was like a little giant jumping into the sharing platform market. The growth of MVL with riders in its ecosystem is similar to the philosophy of CTR. We are strategic partners to provide better value to riders for the unique identity of MVL, as we have considered together. ONiON Mobility will play an important role in participating in the industry and infrastructure in Cambodia, where we can make a new history in entering the electric vehicle market."

SVinvestment also delivered his speech: "SV is Hive, famous for BTS, and former Big Hit Entertainment. As the first and sole financial investor of Hive, SV has grown more than 100 times and has grown into a global company with a size of 10B USD. SV Investment operates in Korea, Boston, and Singapore. It has overseas branches in Shanghai and Shenzhen, China, and is making global investments, and is currently focusing on Southeast Asian investments through its Singapore subsidiary. When we first met MVL and the Onion team, based on our investment experience in Korea, we developed the mobile era of the sharing economy and platform. Our mobile platform, EV, hardware, energy and a more convenient and innovative society based on data infrastructure. Let's continue to support this company's amazing path, which is committed to innovation and progress in Cambodia and other societies."
ONiON Mobility Co., Ltd. is a joint venture with TADA, a ride-hailing booking application with advanced technology in Cambodia. Recently, with the overwhelming support from local and international riders who are environmental lovers, the number of app orders increased day by day after the launch of the ONiON T1 function to TADA ride hailing app.


The official launch of the ONiON Mobility Assembly Plant aims to enhance a great change for Cambodia, promoting the future adoption and a larger use of green energy vehicles as well as the development of charging infrastructures across the country.
For additional information on services provided by Onion Mobility please contact Onion Mobility Contact Center at 016 296 111 or [email protected]
About ONioN
ONiON is a company that is developing an innovative mobility ecosystem that provides electric vehicles with swappable batteries and infrastructure of battery stations powered by a ride-hailing service of TADA and blockchain technology of MVL Chain. For more information, http://www.onionev.com/ or https://www.facebook.com/onionmobilitykh or https://www.facebook.com/TADAKHM and https://en.mvlchain.io/Mobility
Related Articles