Opening the minds of students in rural areas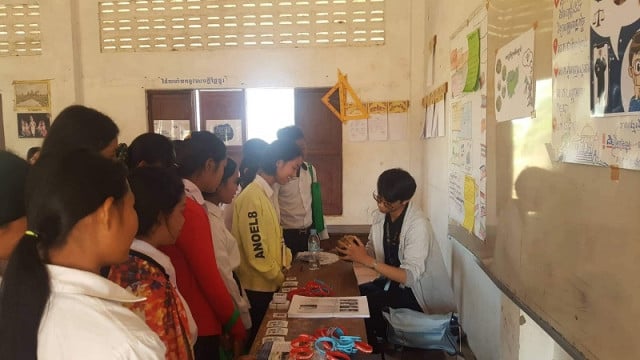 KY Chamna
January 15, 2020 4:30 AM
'If I were to live in Phnom Penh, which university should I choose?'

BANTEAY MEANCHEY — On Sunday last week, a group of high school students from Banteay Chhmar High School in Banteay Meanchey Province greeted Cambodian contingent from the 46th Ship for Southeast Asian and Japanese Youth Program.
The two groups exchanged views for hours — and the team from Phnom Penh learned clearly about the obstacles faced by rural students.
The educational gap between students who pursue their high school education in rural compared to urban areas is a source of concern.
Finding a suitable major at university is no easy task for most rural students, let alone finding a career. According to UNICEF, only 13 percent of students in Cambodia received their high school education in 2017.
By observing limitations in rural areas, the Cambodian youth team promoted awareness of careers as part of the Japanese program's social contribution activities.
The 28 youths set up various information booths that showcased opportunities to 70 students from the high school in Thmor Puok District.
The booths were devoted to various areas such as international relations, business, computer science and technology, the private sector and architecture.
The students had the opportunity to roam around the booths, ask questions and align their interests with majors and careers.

Students were curious about the benefit of subjects or majors they were looking for. "For this subject, where can I get a scholarship from?" a Year 11 girl asked. "If I were to live in Phnom Penh, which university should I choose?" a Year 12 boy wondered.
Volunteer mentors
Eleven of the Cambodians from the Japanese program, volunteered to be mentors through monthly phone calls and connections through social media.
The program, according to Nara Sokhema who is one of the organizers, aims also to engage with the high school students even more, not just a single day period.
"We realize that one-day program is not enough to provide support to this important journey. That's why this program will last 4 months with one on one mentoring program", Sokhema said.
The students will be assisted with information materials and emotional support to broaden their connections with other networks.
"At the end of the day, they are still the ones who will make decisions," another organizer said. "It is best to ensure that whatever decision they make, they are well informed."
Related Articles