Opinion: Cambodia's Foreign Policy is Shaped by its Elites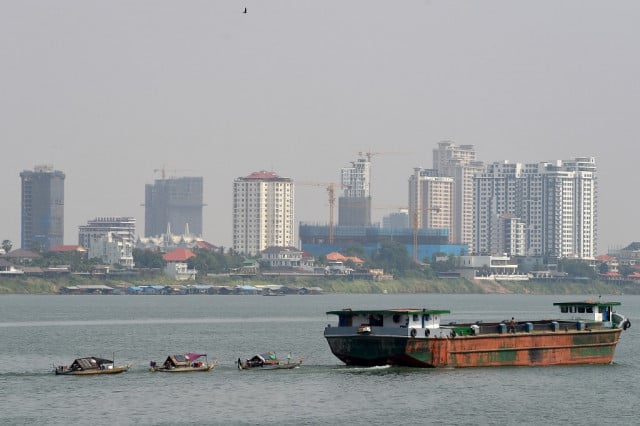 Rim Sokvy
December 8, 2020 9:37 AM
Despite growing mistrust of China's economic and military prowess regionally, Cambodia's foreign policy doesn't necessarily reflect the concerns of its citizens—friction between the US and China may force Cambodia to abandon neutrality.
Amidst the strategic competition between the US and China, Cambodia continues to assert its neutrality. Its constitution stipulates that "The Kingdom of Cambodia shall be independent, sovereign, peaceful, permanently neutral and non-aligned country." Prime Minister Hun Sen has also frequently stated that "Cambodia would neither take side nor allow any foreign military facility installation in Cambodia."
However, as actions speak louder than words, Cambodia's actions have clearly shown that it is moving closer to China. During ASEAN Foreign Ministers Meeting in 2012 and 2016, for instance, Cambodia was criticized for preventing ASEAN from issuing its joint statement that aimed to criticize China's territorial claims in the South China Sea.
In recent years, China's influence in Cambodia has grown. China has emerged as Cambodia's largest aid provider, trading partner and investor. When the European Union (EU) was in the process of withdrawing its Everything But Arms (EBA) trade scheme from Cambodia, China pledged to support Cambodia. Both countries aimed to increase their trade volume to $10 billion by 2023.
To understand Cambodia's foreign policy options, one should look at the non-structural factors of foreign policy, unlike neo-realism and neo-liberalism which both focus on the international system. The non-structural factors of foreign policy instead look at the ideas, identities and interests of a state's elites. Elites are the agents who frame a state's interest and threat to a state's survival. After the fall of Khmer Rouge regime, Cambodia's ruling elites have cultivated relations with China, specifically since 1996.
China's Wooing of Prime Minister Hun Sen
When Cambodia had two prime ministers under the power-sharing agreement between Hun Sen and Norodom Ranariddh, China spent much energy and efforts in wooing the attention of Hun Sen—then second prime minister to Ranariddh. This preference stemmed from the belief that Ranariddh and his National United Front for an Independent, Neutral, Peaceful, and Cooperative Cambodia (FUNCINPEC) party would look to the West for support, particularly the US.
Prime Minister Hun Sen and Cambodian People's Party's (CPP) leaders were invited to visit China and had meetings with Chinese Communist Party officials several times without the participation of FUNCINPEC members.
According to this ideational approach, small states have preferences to align themselves with larger states with a similar or compatible social order, rather than states that threaten the existing social order. The preferences of social order are determined by state's interest and perception about who presents a threat and who is a dependable ally—much of which is framed by the perception of elites.
The Cambodian government has aligned itself with Chinese government while viewing the West as a threat. However, this viewpoint contradict the results of a recent survey conducted in 2020 by ISEAS Yusof Ishak Institute. The survey showed that 77.3 percent of Cambodian people fear the growth of Chinese economic and strategic influence in Cambodia, while only 57.1 percent of citizens are concerned over the US' influence in Cambodia. Moreover, even Chinese aid has grown rapidly in Cambodia; it is relatively low compared to the combined aid and assistance provided by the World Bank, Japan, the United Nations agencies as well as the Asian Development Bank. Despite this, the Cambodian government often claims that "Cambodia's development could not be detached from China. Without Chinese aid, Cambodia would go nowhere."
There are three main reasons explaining why Cambodia's foreign policy moves toward China rather than the West. Firstly, the aid and development assistance provided by China have no strings attached to them. China always reaffirms its support toward the Cambodia government without any condition. After the clash between CPP and FUNCINPEC in 1997, for instance, Cambodia was internationally isolated and faced an aid suspension from the UN and western countries. On the contrary, Beijing provided aid and political support aimed at legitimizing the CPP in Phnom Penh—this support was estimated to be worth $2.8 million.
Secondly, China's assistance and aid are centered on the ruling elites. The development assistance from western countries are usually provided through UN agencies and non-governmental organizations that contribute to socio-economic development and education which are more beneficial to the citizens. Finally, Cambodia's foreign policy toward China is influenced by regime's survival.
Foreign Policy Geared Towards Survival
The CPP will dominate the domestic politics of Cambodia for a few more decades, as Hun Sen continues to repress the main political opposition, the Cambodia National Rescue Party (CNRP), through various means, including legal measures.
The dissolution of the largest opposition party was criticized by Western countries and international institutions. On the contrary, China supported Cambodia and criticized Western countries for interfering in the Cambodia's internal affairs. More importantly, China will continue to provide support to the ruling party because Cambodia occupies a strategic location for China, especially for its Belt and Road Initiative (BRI) projects.
China, through its economic reforms, made itself the second largest economy in the world in 2010 and the world's largest trading nation in 2013. In order to improve its status as a regional power, China has strengthened its military capabilities and uses its economic leverage to influence the region.
China has claimed most of the South China and tries to woo Asia Pacific countries through its BRI. However, China could not rise without facing resistance from the US. As a hegemonic power, the US has tried to contain the rise of China by using trade war and has accused China of illegal claiming over the Paracel and Spratly islands.
In the great power competition, Cambodia as a small state has little space to maneuver, especially when the regime's survival is its fundamental foreign policy goal. With this, even though Cambodia does not want to take side and wants to maintain its neutral foreign policy, it may not be easy.
The rivalry between the US and China has at least three main impacts on Cambodia. Firstly, Cambodia has pushed Western countries away as it has appeared to serve the core strategies of China. This has cost Cambodia many benefits from the West in terms of preferential tariff scheme, development assistance, and investment as the EU has partially withdraw EBA from Cambodia. Recently, Sweden has announced it will close its embassy in Phnom Penh following the halt of new aid to the Royal Government of Cambodia in 2017.
Secondly, the US and other Western countries will continue to pressure Cambodia by raising human rights issues. For example, during the Trump Administration, the US House of Representatives passed the "Cambodia Democracy Act of 2019" that aims to freeze the assets of the ruling party leaders over its violation of human rights and the dissolution of the CNRP. More importantly, the new US administration is likely to put more pressure on Cambodia as the US will reverse its stance to refocus on human rights and democracy.
Cambodia a Battleground of Ideologies
Finally, as John Mearsheimer, famed International Relations scholar of the realist school of thought, has predicted, military conflict between the US and China might be possible in 2021. If that is true, Cambodia could become the battleground. Since Cambodia is surrounded by US allies and military bases such as Thailand and Singapore, the US is likely to establish its military base in Cam Ranh Bay in Vietnam, which is the strategic location to counter China.
Moreover, after dismantling the US-funded military facility built in 2017, Cambodia was further accused of secretly signing a military pact with China to allow the hosting of Chinese armed forces at Ream naval base. Even though there is no evidence of a Chinese military presence in Cambodia up until now, it is still possible in the future as Cambodia is a strategic location for China's BRI project and could be used for military purpose.
In a given situation of strategic competition between great powers, as a small state that has been dominated by a patron-client system, Cambodia has difficulties maintaining its neutrality and independence in its foreign policy. The citizens have always prioritized and placed their fates on the individual leaders who are believed to be able to lead and restore the country to its past glory.
That concept still remains influential. Cambodia in the 21st century is still defined by its elites charting its foreign policy and using it for their parochial interest. As a result, Cambodia's foreign policy sometimes does not reflect the interest of the majority of Cambodians.
Rim Sokvy has a bachelor's degree in International Relations from Royal University of Phnom Penh. He is currently an intern at Cambodia Education Forum.
Related Articles