Opinion: Cambodia Should Focus on People-Centred Urbanization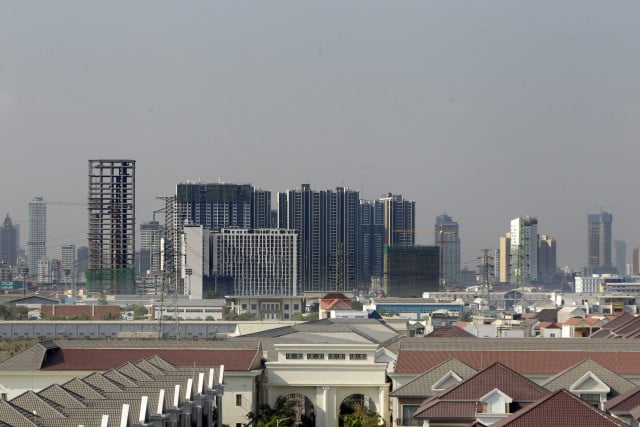 For Cambodian urbanites, a house in a gated residential community, known as a borey, is the pinnacle of home-ownership.

Yet, it may not be so idyllic, on top of the hefty price tag, for residents might be let down by the environment they find themselves living in. Current trends for residential developments in the Kingdom are dominated by designs that are homogeneous, vehicle-centric, and provide little to no access to public space.

These factors are interconnected. Homogeneity, which means the exclusive presence of a single land-use function, and the deficiency of public space are directly linked to a vehicle-dependent design.

Homogeneity occurs because planners assume that residents will commute by driving. As a result, shops, schools, services and other amenities are placed far from homes.

The lack of public space is a direct result of developers allocating more space to vehicle infrastructure. In the average borey, roadways and parking typically occupy 40% of the total development area, leaving little room for public areas.
The consequences of these types of design are bigger than you might think. Without a public space, there is little opportunity for meaningful social interaction, leisure and physical activity.
Homogeneous land-use places amenities beyond walking distance, necessitating the use of a vehicle for even the most basic tasks. And as a final blow, vehicles dominate the environment with desolate roadways and parking lots.
To rectify these issues, moving away from vehicle-dependent development should be a top priority for Cambodian architects and property developers.
The disadvantages of car-dependent neighborhoods are not a uniquely Cambodian problem; these issues are well-understood in other countries. Lessons learned elsewhere should serve as an impetus for a new design focus and shift the paradigm from vehicle-centric neighborhoods to human-centric ones.
Neighborhood emphasizing human activity
The neighborhood of Galgebakken on the outskirts of Copenhagen in Denmark contains about 500 households. Despite its modest size, the neighborhood boasts nine playgrounds, a large park and pedestrian-friendly streets. Each house has a private yard and the front of these houses face cozy pedestrian lanes rather than driveways.
This design is about more than just aesthetics. These choices allow residents to actively commute, enjoy leisure activities, facilitate opportunities for social interactions and allow children to wander around and explore safely.
This arrangement is possible because vehicles are parked along the perimeter away from public areas. One clear benefit of increasing the distance from home to parking spots is people are seven times less likely to choose to drive instead of opting to walk or cycle.
And such a layout not only will dissuade car usage for short trips. By moving such space-intensive structures away from the heart of the neighborhood, planners will also find that freed-up space can be used for more productive purposes to benefit inhabitants.
The next step is providing viable alternatives to private vehicles use. And that's where public transit comes in.
Transit-oriented neighborhood
The neighborhood of Rieselfeld in the city of Freiburg in Germany is home to 4200 families and is designed around public transit. It boasts a large number of businesses, several schools, a gymnasium, a church and several parks.
Rieselfeld has a tram line that runs through its main street, which connects it to the city of Freiburg, allowing residents to commute to the city easily. The main street also acts as the spine of the community, containing shops, businesses, sports facilities, a school, a church and a large plaza. Multi-story and mixed-use buildings are constructed to house these functions along the main street to ensure that all critical functions are within walking distance for every resident.
In Rieselfeld, residents can fulfill most of their daily needs within the neighborhood and hop on the tram line to go further if the need arises. Access for private vehicles is allowed on a typical street and parking is provided at a multi-story parking structure along the perimeter of the site.
In a neighborhood designed this way, the need for private vehicles is almost eliminated. In Rieselfeld, the design strategy has been so effective the area maintains a ratio of only 290 vehicles per 1000 inhabitants, 30 percent less than the national average of 420 vehicles per 1000 inhabitants for the rest of Germany.
While a fully human-centric, transit-oriented neighborhood does not yet exist in Cambodia, developers are already experimenting with mixed-use projects in innovative ways.
Multi-functional neighborhood
Indeed, this is already the case for one such development in Cambodia. Bakong Village is a 4.7-hectare development in Siem Reap containing about 350 residential units. Although it looks deceptively conventional in pictures, the neighborhood layout points at a human-centric and mixed-use approach.
The designers of Bakong Village chose to provide parking space for residents in a dedicated parking building adjacent to the main access road. This parking arrangement is key with the average urban household having a minimum of one car. Combining the parking spaces of every household and moving them to a designated location is a much more efficient way to deal with parked vehicles.
Thus, most houses do not require a parking spot or even need direct access to a roadway and can be placed along homey, tree-lined paths dedicated to pedestrian traffic. The space saved allows public spaces to be dotted across the center of each block; crisscrossing the neighborhood.
To reduce vehicle use, the design incorporates the principles of mixed land use with shophouses, which are popular for a wide variety of small businesses, numbering one-third of the total units. Likewise, a market with 60 stalls serves as the dedicated commercial hub of the whole neighborhood. Moreover, an elementary school equipped with a playground and a sports court is also included in the layout.
Deliberate design and careful management have ensured that most of the daily necessities can be taken care of inside the village. Therefore, lessening the need to travel elsewhere, while also improving the convenience and livability for inhabitants.
Thus, more neighborhoods in Cambodia should be inspired by this unique layout, which reduces car use while emphasizing space for leisure, physical activity and social interactions.
Yet, even Bakong Village cannot fulfill all the design principles discussed earlier. Thus, fully visualizing a transit-oriented and human-centric Cambodian neighborhood requires developers to explore how all elements should be combined cohesively.
A new type of neighborhood for Cambodia
Such a neighborhood would incorporate a public commuter line, or as in the case of Rieselfeld, extend existing lines into new developments, forming a spine for new neighborhoods and acting as its main street.
This main street would be the center of commercial and civic activities in the neighborhood, where architects could locate multi-functional blocks composed of low-rise buildings that contain shops, offices, restaurants and public facilities.
Just behind the main street, residential units would be more dominant but the good design would maintain some businesses on the ground floors. Avoiding the standard car-centric layouts that most boreys use, this neighborhood could instead be designed with a crisscrossing inner network of cozy, tree-lined foot and cycling paths, connected to the gardens and playgrounds at the center of each block.
Additionally, streets serving these businesses and homes might follow a "shared street" design. These streets would be designed to prioritize active commuters but would still allow necessary vehicle access, which is critical for businesses to get supplies and for public services like garbage collection and emergency services.
Like tendrils expanding from the neighborhood's dense core, footpaths might meander their way to the fringes. Here detached single-family homes might share pleasant walkways and lively plazas. Streets could ring the area but would not be choked full of parked cars as vehicles would be parked in secured locations next to exit points from the neighborhood.
Lastly, a correct ratio of single-family homes to low-rise residential units should be devised to facilitate the inclusion of housing units for different income levels. Preferably, planners should include at least three price points for houses, with each type not exceeding 50% of the total; to avoid creating a majority.
Although this neighborhood is only a thought exercise, it demonstrates that it does not take much to radically shift and reimagine how we live. The stark contrast between a vehicle-centric neighborhood to a human-centric one is obvious. Inhabitants of human-centric neighborhoods enjoy public spaces, accessibility to daily needs, excellent urban mobility, a better physical environment and more social interactions.
Given the rapid growth of urban populations across Cambodia, the nation's towns and cities should reconsider current trends and shift to principles that prioritize livability over vehicle dependency.
Aronsakda Ses is a junior researcher from Future Forum Cambodia. His research covers urban planning policy in Cambodia.
Related Articles
February 8, 2023 10:43 AM