Opinion: Conflicting Narratives of January 7 in Cambodia: It's Time to End the division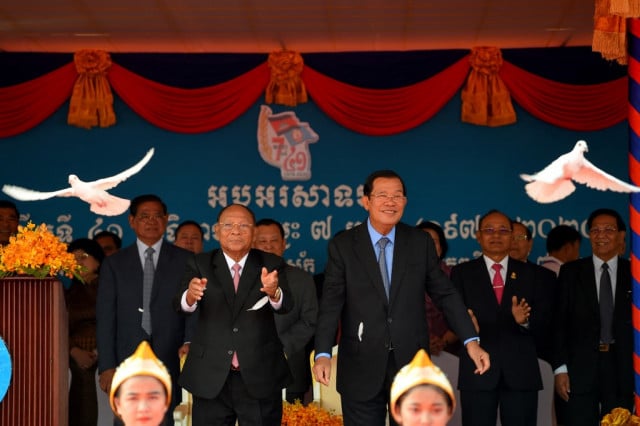 Cambodia has long suffered from conflicting interpretations of January 7, the date that marks the collapse of the Khmer Rouge regime on January 7, 1979. Two different narratives of the same date have been around. On the one hand, January 7 is considered as "Liberation Day" or "Victory Day".

This interpretation is reinforced each year by the supporters of the ruling Cambodian People's Party when they commemorate this special day. On the other hand, the same date is interpreted completely differently by the Cambodian government detractors and the opposition group who consider January 7 as Vietnam's invasion and decade-long occupation of Cambodia.
Although the latter interpretation has been on the decline in recent years due to the demise of the main opposition party, the Cambodia National Rescue Party, these competing political narratives have created and continue to sow division in Cambodian society. They continue to add fuel to the fire and feed on disagreement among Cambodian people. As I have previously argued, these conflicting interpretations of January 7 have created two different narratives on the same date, perpetuating "division rather than unity, hostility rather than harmony, and tensions rather than cooperation among Cambodians."
I have also called for Cambodia to move beyond the conflicting narratives of January 7 in order to bring unity and harmony to the Cambodian political landscape that has been fraught with division, disagreement, and disunity for the last few decades. As a Cambodian, I believe that now it's time to end the divisive political culture that has plagued Cambodia for many years. It is time to move forward and move beyond the conflicting and divisive narratives of January 7 that have been propagated by politicians.
Time to end the division
Every Cambodian has a crucial role to play in ending the social and political divisions attached to the divergent interpretations of January 7. For politicians, particularly leaders of the ruling party and the now-dissolved opposition party, they have the moral and ultimate responsibility for addressing this issue. They need to accept that their different versions of January 7 are equally insufficient; therefore, "January 7 should be remembered as both the historic day that Vietnam liberated Cambodia from the Khmer Rouge and the day that Vietnam placed Cambodia under a decade-long occupation. It is not possible to have one without the other." This proposal is probably hard to accept but it appears to be the only way forward to end the divisive narratives of January 7 in Cambodia.
For supporters of the ruling and opposition parties, they need to come to terms with the fact that Cambodia is not a country for only supporters of the ruling party or advocates of the opposition party. It is time for Cambodian people to live with facts surrounding January 7 and stop denying them. The facts are that Vietnam did help to liberate Cambodia from the genocidal Khmer Rouge regime and that Vietnam did occupy Cambodia for a decade after the collapse of the Khmer Rouge. If everyone can accept these facts and move beyond the different political narratives, social unity and cohesion within Cambodian society will be improved.
Cambodia has come a long way and has received remarkable success in terms of economic growth, poverty reduction, and infrastructure development. Cambodia's GDP per capita increased from approximately $250 in 1993 to around $1,600 in 2019. Without the COVID-19 pandemic, the GDP per capita for Cambodians would be higher in 2020 and 2021.
Nonetheless, it's now been 43 years since the collapse of the Khmer Rouge. It's been 43 years that Cambodian people cannot agree with one another about the meaning of January 7. It's been almost half a century, and Cambodians are still divided over the interpretations of a single date in history. Isn't it time for Cambodians to move on and settle for common ground? Isn't it time for Cambodians to come together and work together toward social reconciliation and cohesion over divergent political narratives? I strongly believe that Cambodia "cannot afford to keep arguing over a past event which divides the nation and intensifies political polarisation." It's time to end the division and promote social cohesion and solidarity.
In short, it is time for Cambodia to put a stop to the social and political divisions caused by the divisive narratives and conflicting interpretations of January 7. It is time to look ahead and address pressing issues affecting the lives and livelihood of all Cambodians. It is also time for politicians and Cambodian leaders to embrace a new political culture driven by a vision and commitment for inclusive and sustainable development as well as national cohesion. While hard-earned peace and political stability need to be sustained, Cambodia also needs to work on addressing the political polarization and promoting unity and solidarity among Cambodians in Cambodia and overseas.
Kimkong Heng is currently a PhD candidate in the School of Education at the University of Queensland, Australia. He is an Australia Awards scholar and a co-founder and chief editor of the Cambodian Education Forum and the Cambodian Journal of Educational Research. He also serves as a visiting senior research fellow at the Cambodia Development Center. All views expressed are his own.
Related Articles