Opinion: COVID-19 Stretches Need for Financial Literacy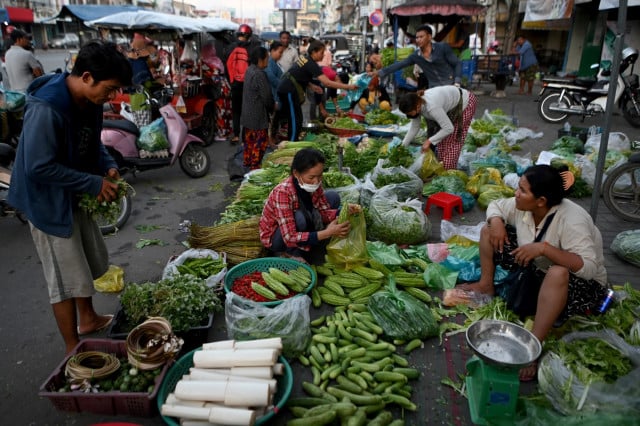 "Okay, Pu Sok, I can see all your shoes outside the door. Can you come out and talk about your late payment? You cannot keep hiding," said Chanthy, a credit officer of a well-known microfinance institution.
"If you don't come out right now, I am calling the police," Chanthy added, trying to peep inside the wooden house that belongs to his long-term client.
Suddenly, Pu Sok pushes the door open with a cleaver in his hand, saying, "Leave right now or you will have a piece of me! Who the hell asks for payment during this hard time?"
This is just another day at work for Chanthy, who related this episode when asked about the challenges he encounters at work. Both his and Pu Sok's names have been changed to maintain their confidentiality.
Pu Sok originally received a business loan from a microfinance institution when he was short on cash to buy fertilizer for his rice fields. Unfortunately, when Covid came to Cambodia, his fortunes went from bad to worse.
Amid the economic hit of the pandemic, Pu Sok could not sell his produce and his motorbike broke down. Under pressure from his lenders to pay back his first loan, he decided to take out a bigger loan from the microfinance where Chanthy is employed. He planned to use this money to pay off his old loan, buy household supplies and buy a new motorbike.
Without any understanding of credit, government assistance, or support, Pu Sok's problem was not just left unresolved, it has grown. His remaining choices are either to sell off his land to pay off the debt and migrate away from his family as a laborer, or to get yet another loan from a less reputable source, likely with an even higher high-interest rate to just get by for now. Any choice will most likely land him and his family on the brink of poverty.
Pu Sok is not the only Cambodian who has got himself into this desperate financial situation. His story is all too common across the country and is one that illustrates a complex double-headed problem facing the Kingdom.
Cambodia has the highest average amount of microfinance institution loans in the world, totaling $3,804 per capita, as of 2020 according to the Human Rights Watch. On top of that, according to a 2017 survey on financial literacy from the Asian Development Bank, Cambodia also ranked among the lowest of the 30 countries which have implemented the Organization of Economic Co-operation and Development's survey regarding this type of knowledge.
The same report has also found Cambodia's financial literacy to be generally low.
While there are efforts in place to equip Cambodians with the skills they need on finance-related topics from multiple stakeholders, including both government and non-government institutions, it remains to be seen whether the initiatives that are being rolled out can keep the next Pu Sok from entering into such risky financial agreements.
A much-debated and discussed initiative to integrate financial literacy into the public school curriculum has finally entered a trial phase. The Ministry of Education, Youth and Sports is set to pilot curriculums, which include financial literacy in four subjects, mathematics, moral and civic education, basic life skills, and housekeeping, at target schools in Kampong Cham, Kampot, and Siem Reap provinces.
It is worth mentioning that the ADB's 2017 working paper on Determinants and Impacts of Financial Literacy in Cambodia and Vietnam mentioned education level as one of the main determinants of financial literacy.
Another initiative by The United Nations Economic and Social Commission for Asia and the Pacific (ESCAP), Good Return, and the National Bank of Cambodia also highlights the joint efforts to foster financial literacy among garment workers, women entrepreneurs, and beyond. The Let's Talk Money: Little by Little campaign includes a series of videos and face-to-face workshops about financial responsibility, the equal participation of men and women in financial decisions, and entrepreneurship ideas.
Aside from governmental or INGO intervention, it is also common to find short videos, articles, and discussions on social media platforms such as Facebook, Instagram, and TikTok. However, the accuracy of these resources remains unchecked. For example, it is unclear as to how many of these efforts really target the areas that the people need the most assistance with, or whether the individuals behind this type of content are providing unbiased support free from conflicting financial interests of their own.
In addition, those tasked with addressing the issues faced by Cambodian borrowers face an uphill battle because the rules of the game and the skills it takes to play are constantly changing.
Increasingly, Cambodians navigating credit acquisition and debt management must also successfully navigate digital tools as well. In September 2020, during the pandemic, ABA bank saw a 55% increase in mobile app users compared to the previous year. In response to the never-seen-before need for a cashless society, financial institutions and the National Bank of Cambodia (NBC) have introduced digital initiatives, among which Bakong has topped the chart as a central payment system potentially and prospectively comparable to China's WeChat Pay.
No matter how convenient digital banking is, it is dangerous ground for those who are not equipped with enough understanding and caution. People like Pu Sok, who are not able to read well and are new to the technology, are also using digital banking. How much will they be able to keep their guard up against hackers and con artists? How well can they understand privacy agreements, which are generally written in English and poorly translated into Khmer? How well can these users navigate dispute settlement mechanisms, for instance?
People reading this may be left wondering, should people who are in need of additional funds simply avoid taking out loans altogether? Should people who are unfamiliar with digital banking and fraud just resort to traditional banking only? These, however, are not the most critical question.
Rather, we must consider how people in need of cash flow may be assisted so that they can have the best chance of navigating the issues that are most likely to arise, and are, therefore, able to make the right choices to secure a happy and healthy future for themselves and their families.
Sreng Ratana is a junior research Fellow at the Future Forum
Related Articles
February 20, 2022 4:42 PM