Opinion: Enhancing Connectivity with ASEAN Customs Transit System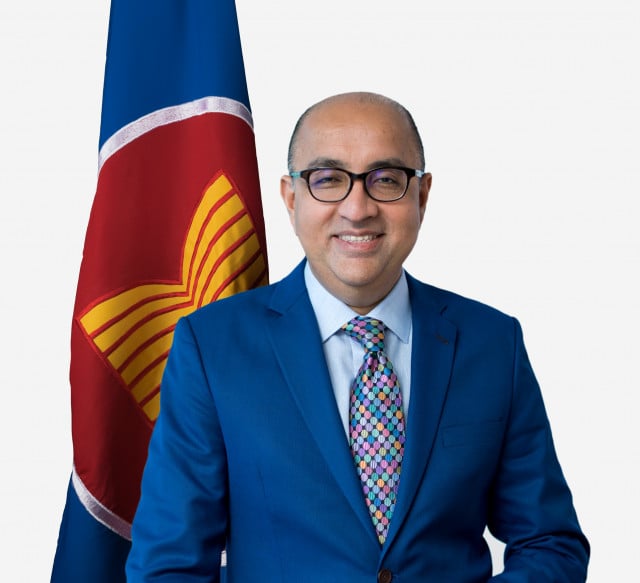 More than three years ago, Mr. Raj, General Manager of City Zone Express (CZE) Malaysia, a regional logistics company with branches in Singapore, Malaysia, Thailand, Myanmar, Viet Nam, and China and a fleet of more than 260 vehicles, was proud of his GPS equipped fleet with innovative security gadgets and anti-hijacking system and was headed to become one of the top logistics companies in the region.

He, however, still struggled with cutting down transit times at the border customs checkpoints that applied slow manual customs procedures, paper-based documentation, multiple and often inconsistent requirements of instructive inspections, supervision of loading and unloading containers, and changing of trucks at borders. As feedback by some service users, the lengthy transit process, including long waiting times at borders, discouraged them from using land transport across the region. Instead, they preferred sea freight that can move containers without stopping until the final destination.
In the meantime, the EU has implemented the New Computerised Transit System (NCTS) that allows the movement of goods from one point to another between the customs territories of different contracting parties. At the same time, duties are suspended and border inspections are minimal. The system using the single regional electronic transit declaration with simplified procedures has struck a balance between the economic interest of operators and the interest of Customs administrations. This enhanced connectivity has facilitated trade among adjacent countries by reducing the cost of doing business while allowing governments to maintain the safety and security of society by applying automated controls on the movement of goods.
To address bottlenecks faced in ASEAN by the private sector, with the support of the EU through their technical assistance programmes to ASEAN, ASEAN Member States began discussing the establishment of the ASEAN Customs Transit System (ACTS) in 2007 with the idea of adapting the successful EU system in the ASEAN context. More than ten years later, on 2 November 2020, six ASEAN Member States, namely Cambodia, Lao PDR, Malaysia, Singapore, Thailand, and Viet Nam, launched live operations of the ACTS.
The ACTS aims to support ASEAN's commitment to reduce the cost of transporting goods by road between the ASEAN Member States by accelerating and simplifying official government control procedures using a modern digital system that implements single digital declaration, process automation, and real-time information exchange.
"ACTS lowers costs over time while enhancing efficiency and reliability for road freight movements in the ASEAN region by harmonising the cross-border regulatory processes and standards imposed across different member economies. With this initiative, from 2023 onwards, we are planning to build more networks of customers and branches in all ASEAN countries to take advantage of the ACTS system," said Bruno Selmoni, Head of Road Freight & Multimodal, Southeast Asia, DHL Global Forwarding.
Business users can lodge digital transit declarations directly with ASEAN Customs authorities via ACTS and track cargo movement from loading at departure to unloading at the destination. As operators no longer need to make Customs declarations at borders, the ACTS generates administrative and cost savings while opening up new and more competitive intra-regional trade lanes.
"Using ACTS is really beneficial to logistics service operators like us. From now on, we do not need to undergo national customs clearance procedures in every single country we enter, which allows us to save time and costs significantly. We estimated the cost savings to be around 30% to 40%. This is by far the most competitive advantage from using any other mode of transit available in ASEAN," said Mr. Raj.
However, the unexpected COVID-19 pandemic caused unprecedented global disruption to the supply chains, with no exception in ASEAN. Countries rushed to impose restrictions on traveling and transportation to keep their populations safe. This meant significant challenges to the regional transport sector, especially in the area of moving goods. Consequently, the newly-established ACTS had only a modest number of users in 2020 and 2021, with only two ACTS movements per year, respectively. To improve ACTS utilisation, ASEAN strengthened the private sector outreach in 2022, which resulted in thirty-two completed ACTS transit movements between January and July.
Recent discussions with the private sector revealed some roadblocks as to why the ACTS is underutilised. First, bank guarantees are not required in some national transit regimes of some participating ASEAN Member States such as Cambodia and Viet Nam but are required in the ACTS transactions. Difficulties obtaining a guarantee from the bank seem to have pushed some private sector entities to postpone using the ACTS in their regular transport operations. Second, the absence of inland Customs offices in some participating ASEAN Member States seems to discourage traders and logistics operators from using the ACTS scheme, as they have to move the goods to the border to start ACTS movements instead of starting the movements from the Customs office near their location. Private sector entities usually have their premises in or near major airports, seaports, and certain Special Economic Zones (SEZ). Third, confusion over the interpretation and priority of the application of regional and national laws and regulations also raises a barrier to the participation of the private sector. And last but not least, they have limited information on how to register as a Principal in the ACTS and on additional requirements they have to meet to be able to transport goods using the ACTS. Many companies noted the lack of information from their local Customs departments and transport authorities,
To increase the utilisation of the ACTS, several initiatives have been launched to support the private and public sectors through this demanding change. The private sector outreach programme has been launched to increase the awareness of the ACTS among relevant private sector entities and associations and provide on-the-ground support to the private sector interested in using the ACTS. Regular meetings between Customs and transport authorities of participating ASEAN Member States are underway to solve problems related to operations and simplify requirements for joining and moving goods under the ACTS. Furthermore, a two-country transit pilot between Cambodia and Viet Nam is ongoing.
While domestic consultations are ongoing to address identified issues, ASEAN Member States should spearhead regional and national outreach programmes to enhance greater ACTS awareness in the private sector to motivate more logistics operators, manufacturers, and traders to utilise the ACTS for their transport operations. To stand united with the private sector, Customs administrations and transport authorities are advised to be more proactive in reaching out to relevant stakeholders, including traders, logistic companies, forwarders, transport operators, banks, customs brokers, and others, to provide information, instructions, and training in assisting them in joining and using the ACTS.
Dr. Ramlah Mochtar, Senior Assistant Director of the Royal Malaysian Customs Department (RMCD), recently shared that efforts have been made to increase the private sector's participation not only by conducting national outreach to attract its market players to use ACTS but also by conducting regular training for banks, stakeholders, and customs officers at borders. Malaysia is ready to participate in the ACTS operations upon request from the private sector. She added that "Customs and Transport authorities should ensure the readiness for traders and transporters with a complete understanding of the ACTS procedures, and Member States need to share the same spirit to have the ACTS fully realised for trade facilitation in the region".
With its meaningful commitments to digitalisation through the ACTS, ASEAN has a unique opportunity to serve as a digital integration model and advance the digital trade community. To this end, the ACTS should be given top priority and attention to becoming one of the ASEAN's forefronts of digital trade initiatives and facilitating seamless cross-border movement of goods between the ASEAN Member States.
Looking at the long-term plan, Dato Lim Jock Hoi, Secretary-General of the ASEAN Secretariat shared that the feasibility study on implementing the ACTS along the Borneo Corridor involving Brunei Darussalam, Indonesia (Kalimantan), Malaysia (Sabah and Sarawak), and the Philippines has been conducted to strengthen connectivity in the region. Furthermore, discussions are underway with strong support from relevant stakeholders on the possibility of inclusion of other modes of transport into the ACTS, such as rail, which would help ASEAN leverage the emerging opportunities from other modes of transport to develop a sustainable transport network in the region.
In conclusion, ASEAN still has room to improve trade facilitation, simplify customs and transport procedures, and cut down trade costs through a proactive approach to servicing the private sector. The region should continue to identify bottlenecks and obstacles and address them in moving towards its objective of regional economic integration by implementing free movement of goods in the region with minimal regulatory requirements. Closer coordination among relevant authorities of the ASEAN Member States nationally and regionally and frequent consultations with the private sector will strengthen the support for the ambitious goal of doubling intra-ASEAN trade in the region by 2025.
*H.E. Satvinder Singh is the Deputy Secretary-General of ASEAN for the ASEAN Economic Community.
Related Articles