Opinion: Newly-Opened Mondulkiri Accommodations await tourists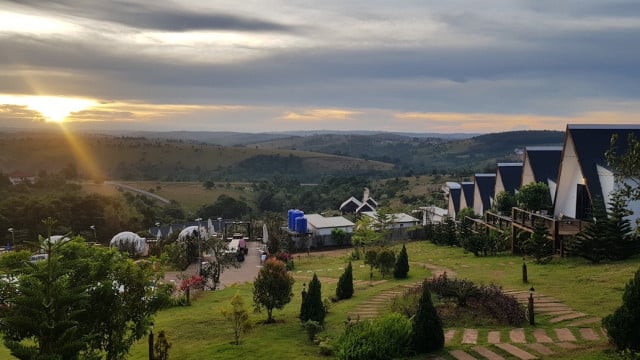 The sleepy mountainous town of Mondulkiri has been, for better or for worse, altered by the COVID-19 pandemic. As the number of international flights dropped, local tourists had nowhere to flock to but their own domestic tourism destinations.

With its sharp spike in tourism activities, Mondulkiri Province has become one of the center stages for resort investment. Yet, how did we get there? To understand, we need to go back a bit.
With its combination of indigenous communities and mountainous landscape with a red leftover of volcanic soil, Mondulkiri Province has been a faraway destination that many Cambodians, whether young or old, wish to experience at least once in their lives. With a couple of national roads and some provincial routes providing access, Sen Monorom City—its capital located around 380 kilometers from Phnom Penh—is not too far away from the road leading to the land of Angkor in Siem Reap Province.
However, the experience does not lie in the distance alone: With its elevation deviations, twisted turns through the mountains, the almost-sudden drop in atmospheric pressure as drivers ascend the mountains, the goose-bump inducing breeze blowing wavily across the acres of pine wood, the journey itself is anything but ordinary. And then, a small town with small and normal-size residential quarters resting in one of the many valleys gives Mondulkiri Province its own signature look and feel.
Before the pandemic kicked in, Mondulkiri received quite a constant and profitable flow of tourists both local and international. Tourists coming through tour agencies, families and friends frequently gathered at tourism hotspots where they relaxed in huts and enjoyed local cuisine such as grilled chickens, domestically-raised wild animals and sometimes the indigenous cooking and alcohol of the minority communities.


Then all of a sudden, this land was deprived of tourists. Lockdown, financial disruption, the deteriorating health or even the death of some family members stunned people, preventing them from traveling for quite some time. For a while, international travel was virtually cut off. Domestic travel spiked, although it was a short burst. But through this short burst, the tendency to invest has become a trend. Over less than two years, untamed land full of thick forest and wild animals—as some locals have mentioned—along the well-paved tarmac roads of Mondulkiri Province have been cleared out tens or even hundreds of meters inward to make way for people's desire to invest. Small private houses on mountain slopes and in valleys, with the shape of a triangle when viewed from the front, have become a popular design as this shape resembles the indigenous people's traditional living quarters. Resort signs and logos have multiplied along the roads, notifying travelers of the availability of leisure spaces.
Traditionally, Mondulkiri Province mainly accommodated visitors at guesthouses and hotels. Today, a taste for temporary living has emerged. Yet, as international flights become available again, it still is to be seen whether the number of local tourists in Mondulkiri Province will remain as high as some investors have anticipated.
In short, will local tourists come in sufficient numbers to make these new properties profitable in Mondulkiri Province when the country reopens its doors to the outside world? The simple answer is… maybe.
Related Articles