Opinion: Press Freedom in Cambodia Suffers Deterioration During COVID-19 Pandemic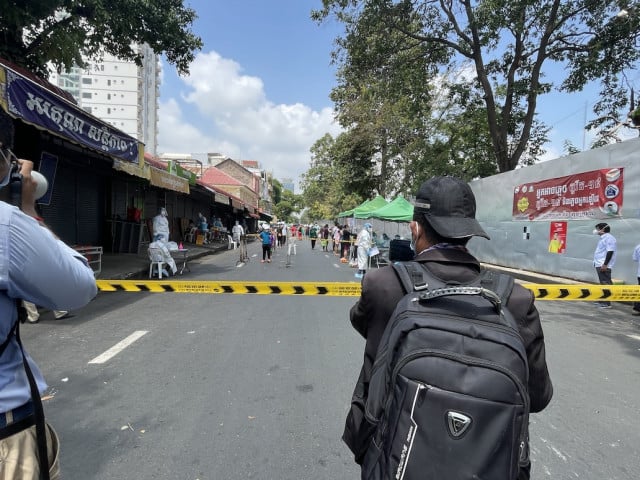 During the annual celebration of World Press Freedom Day on May 3, many journalism organizations and NGOs in Cambodia gathered to discuss and seek solutions to the challenges facing them.

With the 2015 Telecommunication Law and the establishment of the National Internet Gateway, people raise concerns that the regulations can be powerful tools for the government to curtail and manipulate online information.

If this is the case, it will likely become a successful platform for the government to quash critics and comments made by the public and civil society groups on the decline in press freedom, and a slowdown in democratic development.
Speaking of challenges, Cambodian journalists have encountered diverse threats from a series of attacks by unknown assailants to arrest for repeating the government's words and harassments by authorities while covering sensitive issues, including land conflicts, loss of wetland, deforestation as well as other political issues.
Harassment and restrictions still hold
Article 41 of the Constitution stipulates that "Khmer citizens shall have freedom of expression, press, publication", and the Law of Press in 1995 is a means to guarantee freedom of journalists to press ideas or publish their stories without fear and censorship. However, they continue to face incitement charges, which continue to be a gigantic roadblock for them to break the cycle of social injustice.
Noticeably, Cambodia's freedom of the press remains among the worst, with a rank of 144 out of 180 countries, according to the 2020 press freedom index by Reporter Without Borders. Moreover, journalists have also been facing both physical and legal harassment. According to a 2020 report by Cambodia Journalist Alliance Association, there were 35 cases of harassment against 72 journalists, and 22 journalists were either attacked or threatened. Among them, 42 were detained for questioning or imprisoned for committing a felony.
People may question why these still happen given that the government appears to value the role of journalists in developing society. People may still remember that Cambodia's Prime Minister Hun Sen openly articulated that he considered journalists as good partners of the government, and he even went on to say that he would be a mentor of reporters after retiring from politics while calling on journalists to report facts and eliminate fake news.
Even though it sounded promising, in reality, journalists continue to be targeted because of their role in keeping a free and informed society. And speaking of tackling fake news, the government has not seemingly been in solidarity with journalists in addressing the issues but instead tries to use the reason of combating disinformation and misinformation aiming to restrict their works.
Covid-19 creates more challenges for journalists
To curb the spread of the virus and manage the public crisis, the Cambodian government has created many regulations, including the law on the control of COVID-19 and other contagious diseases. But the legal tools have not only been used to stem the spread of the disease but also prevent journalists from performing their duties effectively.
As we know, news updates on Covid-19 cases and administrative or health measures taken by the government during a public health crisis are critical for citizens. But it had been more challenging during the recent lockdown. Based on my observation, journalists have faced three challenges. These include fear of legal consequences, difficulties in providing accurate information, and deterioration of mental wellbeing.
First, when journalists work on sensitive issues especially linked to high-ranking officials and financially powerful people, they risk facing threats and being arrested or detained. This risk discourages them from seeking to cover the sensitive issues.
Second, as a working process, professional journalists need to conduct interviews verbally or face to face to have more accurate and colorful information on a subject matter they are covering. However, in early May, the Ministry of Information ordered journalists to stop reporting from the "red zones," arguing that some journalists had misled the public through their live streaming on social media with comments on health-related and technical incidents. That, it said, could cause social unrest and increased the risk of Covid-19 spreading. With this restriction, journalists could not go out doing field reports. Without conducting physical interviews and observing the scene with their own eyes, it is hard for them to provide accurate and sufficient information to the public, given that news is vital for their daily life.
Third, work from home has created mental challenges, and for journalists who are accustomed to going out, it is even more challenging. As I have talked to one VOD journalist, she told me, and I quote: "I just stay inside my home struggling, I am not able to do the stories I want to do due to travel restrictions. It is hard to contact sources during the lockdown; I feel emotionally drained after sitting in front of the screen inside my house for too long. I don't feel as energetic and productive [as I used to]."
Journalism as a mirror of the government
Even though journalists can dig out the stories and inform everything the public needs to know,​​​​​ misfortune still follows them. And the fear of physical violence and legal dispute continues to be a part of their profession. But, in times of pandemic, people understand the value and the importance of news updates on the spread of the disease and its daunting impacts, and we can't imagine a life without news. Therefore, ensuring efficient and comprehensive access to information and promotion of information access is in greater need.
For professional journalists, protecting the public interest is their chief responsibility. It is crucial that they strictly uphold their professionalism and adhere to the code of conduct. However, not all journalists are practical and professional, and we all agree.
But in a country where democracy is slightly progressing like Cambodia, journalists become even more essential, acting as messengers who can carry truthful evidence towards the public. They also have to be a watchdog who can hold the government accountable for its actions and dig deep to find reliable information for the sake of the public interest.
Another problem I want to raise here is rising disinformation and misinformation. By saying that, we need more professional journalists who can work as truth providers. As fake news is widespread, the government and all stakeholders need to work together in partnership to support journalists in a fight against fake news.
Most importantly, it can be a good partner and a mirror for the government to reflect its actions, eventually contributing to the reform process of public policy and governance. No society could indeed build transparency and accountability without the involvement of professional journalists.
However, in the context of Cambodia, moving toward a democratic society appears to be far from reality as media freedom remains restricted if not under attack. For example, the independent newspaper Cambodia Daily was shut down while some outlets faced license revocation.
Promoting and supporting journalism for good
My explanation could already prove that journalism is not an easy job, and with that comes a great responsibility where the story moves, no matter if there is jeopardy and uncertainty. To do so, journalists need to risk their life if they are committed to covering the sensitive issue in a hostile environment as it can affect the interests of affluent people and other political elites.
But the government has a responsibility to protect journalists and ensure that the freedom of the press is free. By saying so, it means journalists can freely practice their profession with no harm, threats, harassment, or fear of arrest and imprisonment.
And the government must also avoid discrediting the works of journalists and silence them for reporting truths. Following the constitution and press law, the government should not use the criminal code to stifle the voice of journalists through arresting, detaining, and jailing them if it is a democratic nation, as it repeatedly proclaims. Instead, the government should educate them, taking serious action to support and engage with professional journalists and provide them with more training to upskill their professional capability.
Not only the government but non-governmental organizations and journalism associations also have the responsibility to support journalists. They can provide legal protection, daily support, and mental health consultation, especially during times of crisis.
All in all, these are the key steps to ensure the quality of freedom of the press. It will allow all people, regardless of their backgrounds, to gain access to good quality information, which in return will significantly contribute to building a democratic and vibrant society.

Chea Sameang is a graduate student in majoring of International Relations Student at Paññāsāstra University of Cambodia.

This article was originally published on Politikoffee.


Related Articles