Opinion: Sihanoukville with a New Face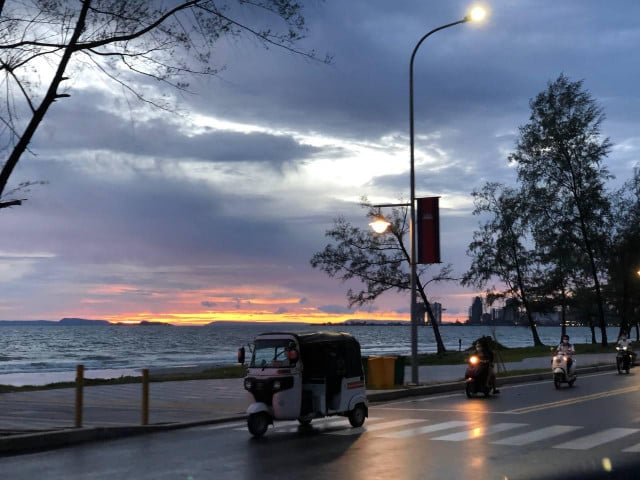 After its accelerated infrastructural development and the abrupt interference of COVID-19, Preah Sihanouk Province, which is one of Cambodia's seaside provinces, can more or less be a place of mixed emotions for the people who have been there.
Prior to the last five years, the provincial town of Sihanoukville was amongst the most visited and a calm leisure destination for many Cambodians as well as Western tourists from across the globe. Relatively small buildings, small communal roads and a tiny permanent population were the factors that contributed to this province's theme of tourist relaxation. The gentle sway of the larches along the ocean wind on the white sandy beaches. The countless colorful umbrellas provided comfortable shade for the visitors. The calm traffic and cold mountain breeze at dawn kick-started people's morning routine.
However, within a period of approximately three years, Sihanoukville was transformed beyond recognition. Soil on the ground and some natural features were replaced by concrete and steel. One after another, high buildings occupied the empty vertical space like blocks from the classic game Tetris. Parcels of land were claimed and contracts were signed. This led to the spontaneous growth of infrastructure means for heavy-duty transportation, and also the by-products of construction sites such as smoke, chemicals and other wastes leaking out. When COVID-19 came to fill the equation, the crowded town of Sihanoukville with its growing infrastructure was, once again, reduced to quietness and a lack of human presence. Unfinished buildings without any proper coating, windows, doors or any other interior features were left to be swallowed by plant life almost to the point of looking like the work of artists. Many of the newly-opened casinos were empty and Cambodians went back to their small local businesses for the sake of their families' economy.
However, Sihanoukville may get a new face after this somewhat bumpy ride.
Large and modern infrastructure such as multi-lane roads and overhead bridges are new sights and experiences for the population living outside the densely-populated city of Phnom Penh. Main roads nearly as wide as rivers and almost as smooth as silk circumnavigate the capital city and traffic speed gets faster as driving becomes more convenient. Along the shore, parking areas are well-organized with proper vehicles demarcation and traffic signs. Pedestrian sidewalks are spacious while bicycle lanes are seen more and more often. Public restrooms, with better design and ergonomic, are easier to access than before. The increase of light sources from buildings and public places extends human activities well into the dark night.
In addition to having two national roads from Phnom Penh, Sihanoukville will be, within the next couple of years, connected to an expressway for the first time. This high-speed motorway is expected to reduce the travel time from Phnom Penh by half, going from a 5-hour drive on the conventional roads to less than a 2.5-hours zoom on this new highway.
Despite some hurdles that came up along the way, this new transformation might provide this once sleepy seaside town with a new—if not better—look 200-or-so kilometers from Phnom Penh.
Related Articles