Opinion: Teaching Chinese in Schools is a Two-Edge Sword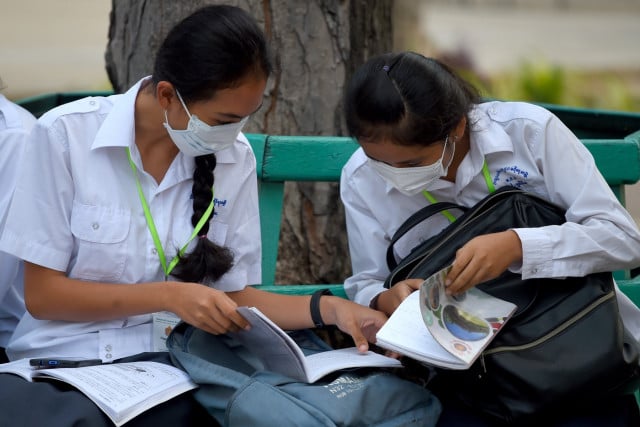 Knowing a foreign language opens the window to opportunities. There are many benefits of being bilingual or multilingual but there are drawbacks. This article discusses the opportunities and challenges of integrating the Chinese language into Cambodia's public secondary school curriculum, following an agreement between Cambodia and China on November 9.
Opportunities
Teaching Chinese in Cambodia's public schools demonstrates Cambodia's commitment to strengthening its relations with China. This is a good move considering Cambodia's tight alignment with China as well as the need for Chinese support in the context of increasing uncertainties and complex geopolitical challenges affecting Cambodia, the region, and the wider world.
Second, introducing Chinese into Cambodia's secondary schools is immensely beneficial for Cambodian students, at least in the long run, because Chinese is one of the world's most-spoken languages.
In addition, in the context of China's rise, knowing Chinese is a major plus. Chinese people are everywhere. Knowing Chinese will help one to communicate not only with Chinese people in one's own country but also with Chinese people overseas. The ability to speak Chinese is like having a special key to many opportunities, be it social, economic, educational or entertainment.
Third, knowing Chinese could be considered a good preparation for the future. China is predicted to surpass the United States as the world's largest economy. Although there are now doubts about this estimation, given the sharp slowdown in China's economic growth, the world will continue to feel the influence of China in many ways. Thus, with Chinese language knowledge, one would be able to understand the world better, particularly anything linked to Chinese culture and traditions.
Finally, integrating Chinese into the Cambodian school curriculum could reduce educational inequality. This is a blessing in disguise. Although having to study Chinese in addition to other major foreign languages such as English and French may be a burden, this situation creates a great opportunity for students who cannot afford private Chinese classes.
In general, only Cambodian students from relatively well-off families can attend private Chinese schools, leaving many students from poor families at a disadvantage when it comes to anything to do with the Chinese language, such as education and employment opportunities. However, with Chinese available for public secondary school students, many, if not all, Cambodian students would have an equal chance to opt for Chinese as their foreign language of choice.
Challenges
Despite the opportunities, the move presents challenges. First, why is another foreign language needed while many Cambodian students are struggling to gain an acceptable proficiency in English, a major foreign language in Cambodia and in many parts of the world?
As the results of Grade 12 national examination in recent years have shown, many students failed English. This has greatly affected their education and employment prospects after high school.
English remains essential for employment, education, research and other opportunities. Another foreign language added to the curriculum would only distract students from focusing on improving their English.
Integrating a new foreign language into the curriculum may seem nice but is the public school system ready for it? To effectively introduce a language into a curriculum, a language-in-education policy is needed so that any implementation issues can be addressed.
Leading researchers around language policy and planning, such as Richard Baldauf and Robert Kaplan, have introduced a policy framework to guide policy implementation.
The framework consists of seven aspects, including access level, personnel management, curriculum development, methodology and materials use, resourcing and funding, community consultation, and evaluation strategies.
To what extent have these important elements been considered in implementing the agreement to introduce Chinese into the school system? How are the social, institutional, and individual needs considered in the decision and implementation process?
Third, the move may exacerbate Cambodia's tarnished international image. Although the connection may seem remote, embracing the Chinese language at the national level in this way could send a signal to critics and observers that Phnom Penh is moving deeper into Beijing's orbit. This unnecessarily reinforces the widespread negative perception that Cambodia is China's client state or China's proxy, particularly in the eyes of China's major competitors such as the United States.
Finally, the issue of language, culture, and identity could be of concern. Without a doubt, studying a foreign language would enhance one's ability to understand the culture of that language; however, at the same time, it may affect their identity and how they see the world.
Foreign languages and cultures have taken a toll on the Khmer language and culture through the different forces of globalization in recent years. It is always prudent to consider the preservation of the Khmer language and culture as a priority when it comes to major decisions that may affect the Khmer language and culture in the short, medium, or long term.
To conclude, it remains to be seen how the recent move to integrate the Chinese language into Cambodia's public secondary school curriculum would play out. However, it is crucial to discuss issues like this that may influence society. This is to stimulate critical and independent thinking and encourage exchanges of alternative viewpoints needed to bring about a healthy culture of discussion and debate in Cambodian society.
Kimkong Heng is a co-founder and editor-in-chief of the Cambodian Education Forum, an online platform established to contribute to promoting research and peer-reviewed publication in Cambodia.
Related Articles