Opinion: Transformation of Education with School Community Strategy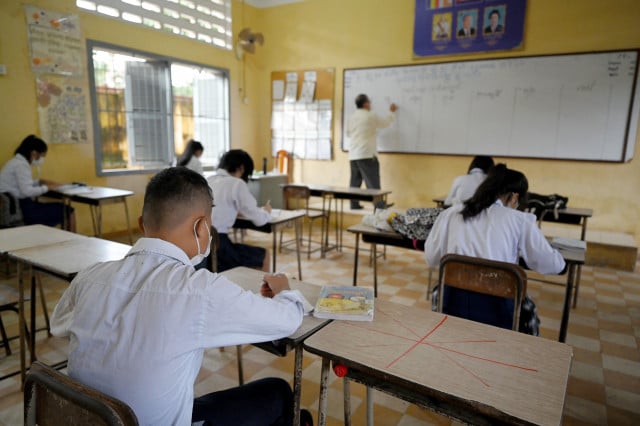 Reforms pave way for economic growth
Cambodia became a lower-middle-income country in 2014, with the national gross income increasing from $323 per person in 1995 to $1,621 in 2016. Poverty reduction is one of the main issues which the government needs to tackle.
Education has an important role in developing the nation as the government puts relentless efforts into improving enrollment.
The country has gone from no schools in 1979 to almost 13,000 today. However, more schools and higher enrollment rates are not enough to produce well-rounded students. In terms of quantity, the most significant factor is how to transfer knowledge and skills to students.
School-based management (SBM) is one of the strategies to reform education by delegating decision-making power to schools (grassroots levels).
This provides better opportunities for school leaders, teachers, students, and parents to manage the educational progress by having responsibility for managing finances, recruiting staff and developing curricula, and giving more chances for parents to make decisions on their children's learning outcomes.
SBM concentrates on school reformation through 3A close loop systems such as assessment (assessing students' learning ability), autonomy (having autonomy in making decisions on testing results to reform the quality of teaching and learning), and accountability (building accountability in the community by disseminating public information).
As a result, 100 target schools and about 300 non-target schools have reformed through the SBM framework under the secondary education improvement project (SEIP) from 2018 to 2022.
These statistics show a tiny improvement in Cambodian education which demands a change in strategies and mechanisms to reform and development of this sector to be able to scale up the high impact of education on developing human resources.
However, the school community strategy (SCS) has been brought in to increase the impact of school reforms by focusing not only on secondary school improvement but also extending to early childhood education, primary education and secondary education through the general education improvement project (GEIP).
In particular, the Faculty of Education of the Royal University of Phnom Penh is implementing GEIP under the supervision of the Education Ministry and sponsored by the World Bank.
This project aims to enlarge the scope of educational reform to 1633 schools including 213 kindergartens, 1000 primary schools and 420 secondary schools.
In addition, SCS focuses on school reformation through 6A close loop systems namely assessment, autonomy, accountability, attention to teachers, attention to cultures and values, attention to early childhood education, protection and care.
SCS has implemented this through four main phases: Year 1 to establish schools and classrooms to be learning places, year 2 to enhance schools to meet the minimum levels of effective school standards, year 3 to put forward sustainable schools through income-generating programs, and year 4 to run schools sustainably and effectively.
This transformation could bring a substantial change to Cambodian education which pushes the country forward by being able to provide dynamic and potential human resources. This way, economic growth will be stimulated.
In conclusion, Cambodia is moving on the right track with educational development models from school-based management to school community strategy.
The transformational education model is needed to materialize Cambodia's vision to become an upper-middle-income country in 2030 and a high-income country in 2050.
School community strategy will be a leading way for Cambodia to make a great impact on school reformation to improve education to produce competent human resources and realize the vision to be a knowledge-based society in 2030.
Neak Piseth is a lecturer and program coordinator of Leadership Upgrading Program, Faculty of Education, Royal University of Phnom Penh. He obtained MEd in Non-Formal Education, Chulalongkorn University in Thailand
Related Articles