Opinion: What a Joe Biden Presidency Could Mean for Liberal International Order?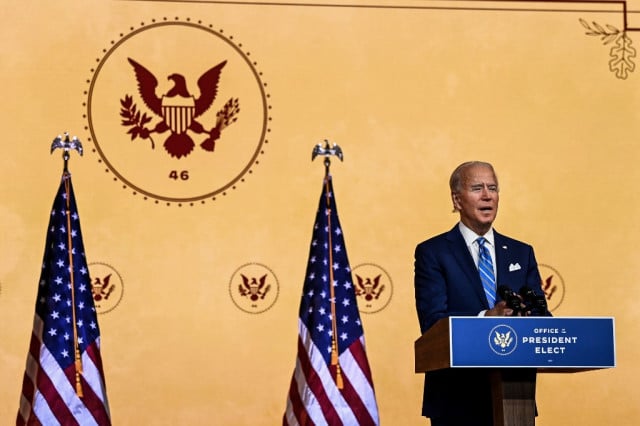 Bunna Vann
November 26, 2020 1:01 AM
Joe Biden is projected to take over the White House as the 46th President of the United States of America after his victory over President Donald Trump in the US Presidential Elections on Nov. 3, 2020. As the US will have a new President, it is important to examine the implications of Biden presidency on US-led liberal international order and how the President-elect can rebuild the US's global leadership.
According to many analysts, former Vice-President Biden is more likely to carry out a lot of tough assignments in his presidency both at home and abroad. At home, his priorities, of course, will be tackling with deadly COVID-19 pandemic and resultant economic crisis, ensuring national unity and enhancing democracy—along with reuniting the US based on the principles of equitable social justice.
In the international arena, Biden may prioritize foreign policy to restore the credibility and reputation of the US, as well as rebuild the American global leadership with an idea of "America-led leadership" which was widely regarded as missing under the Trump administration. In so doing, he has to focus on securing and enhancing liberal international order.
The liberal international order, also known as open and rules-based international order, constructed by the US after the end of World War II, is generally defined as rules and norms that shape the relations between states on the international stage. The liberal international order deals in the promotion of liberal democracy, free markets, security cooperation and multilateral institutions such as the World Bank, the United Nations, and World Trade Organization. Furthermore, we should notice that "liberal" a part of liberal international order emerged from the liberalist theory of international politics.
Liberalism suggests that through establishing international institutions, spreading democracy across the globe, and economic interdependence among stages, there would be a peaceful world. More significantly, it is worth noting that US foreign policy architects optimistically believed that maintenance and expansion of the liberal international order would be a crucial way to promote and protect US interests.
In a time of dramatic changes to world politics, however, one should not ignore that the liberal international order has been weakened remarkably. There should be no doubt that the rise of Trump—as well as protectionism, populism, and nationalism around the globe—has threatened the liberal international order. Through his "America first" policy which was adhered to by the realist school of international relations, Trump seemed to misunderstand core American values and damage American global leadership role in the process. Trump's leadership has resulted in more divided US domestically and he has displayed immaturity when dealing with foreign affairs—his 4-year presidency will be remembered for its unique way of dealing with the outside world.
The Trump administration surprisingly shrank the list of established American allies, institutions, and international agreements—he asked American allies for security protection payments, entered a trade war with China, and withdrew the US from the ­World Health Organization during a pandemic, as well as welching on the Iran Nuclear Deal, the UN Human Rights Council, Paris Climate Agreement, and scrapping the Trans-Pacific Partnership. Moreover, Trump has frequently violated democratic values and norms such as banning people from Muslim-majority countries, isolating migrant parents from their children, and lately refusing to concede the election to Biden.
There is an interesting comment on Trump by the Financial Times' chief economics commentator, Martin Wolf, who notes that Trump "believes in transactions over alliances, bilateralism over multilateralism, unpredictability over consistency, power over rules and interests over ideals."
After the 2020 US presidential elections, nonetheless, there are increasingly optimistic hopes that the liberal international order—as well as American global leadership—can be restored and strengthened under a Biden presidency.
It is important to note that the President-elect used to hold long political positions as a senator for more than 30 years, as well as a chairman of the Senate's Foreign Relations Committee and he also has served as Barack Obama's Vice-President for eight years. Douglas Brinkley, a scholar of Presidency at Rice University, observes, "Certainly Biden is the most well-versed American President in the sausage-making process of foreign policy, and in terms of learning about every country and each function. Nobody's had the experience on foreign policy that Biden has had."
Given Biden's vibrant and extensive experience in foreign policy, his administration may prove more likely work based on American values and seem strict in restoring the credibility of the US-led liberal international order. Moreover, we should not forget that the President-elect made an impassioned plea for defending the liberal international order. In his last speech as Vice-President at the World Economic Forum in Davos, Biden urged leaders to preserve the liberal international order in response to the increasing pressures it faced.
In fast-changing and unpredictable world, however, it seems too early to assume that the Joe Biden will be a champion of the liberal international order in his next-4-year administration amid the pandemic as well as its consequences, the rise of China and the ongoing threats from authoritarian regimes of Russia, North Korea, and Iran. Moreover, since the Republicans are more likely to control the Senate, the Biden administration's policies will be not easily result in actual implementation.
Even so, there are still room for the Biden administration to meaningfully repair and rebuild the liberal international order as well as the US's global leadership. The administration should focus on the following priorities. First and foremost, the administration must aggressively tackle COVID-19 at home. Getting the pandemic contained is fundamental to rescuing the US economy, rebuilding the US's reputation of competence and to provide the new administration bandwidth to deal with other issues, both at home and abroad.
Second, the President-elect must focus on rebuilding trust among US allies. Alliances and partnerships are essential sources to respond to local security threats as well as global challenges. Third, the restoration and enhancement of multilateralism must be high on the foreign policy agenda.
The administration should negotiate and rejoin international agreements and institutions from which the Trump administration has withdrawn. Last, but not least, liberal democracy—which is an essential instrument of US foreign policy—must be promoted and advanced.
Bunna Vann is a Master of Political Science student at Jamia Millia Islamia University in New Delhi, and a recipient of Indian Council for Cultural Relations Scholarship. He obtained a BA in International Relations from the University of Cambodia.
Related Articles