Ouk Sam Ath: a Musician and Song Composer Aims to Reflect Cambodia in 1960s Style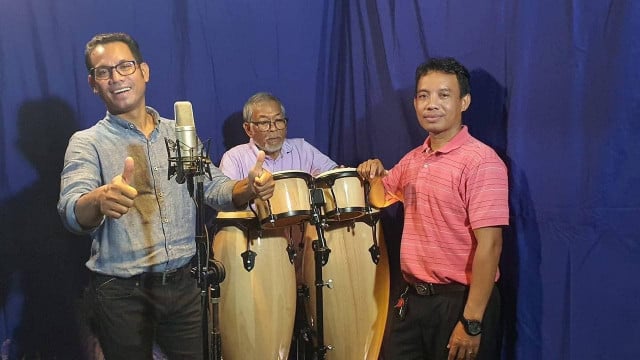 Po Sakun and Phoung Vantha
April 4, 2021 9:13 AM
His goal is to capture the soul of the country in a style typically Cambodian
PHNOM PENH--A musician during the 1960s, Ouk Sam Ath has struggled to become a songwriter. His goal: to keep the words and melodies of the 1960s' songs alive.
When he composes, he gets his inspiration for both music and lyrics from that generation of Cambodian composers who defined that era with their vibrant songs.
"I think I have written about 100 songs and music since 2015," Sam Ath said, sitting in a studio located in the Samnang 12 Market area in Phnom Penh.
"I collaborate with Mai Vathana," he said. Vathana is one of his students.
Born in 1944, Sam Ath says that he had wanted to write songs since he was a child. But he first became a musician. After studying for one year, he started to perform as a drummer in 1959.
But he kept studying, learning to play other instruments and, progressively, turning to composing, retaining the flavor of the 1960s music.
Even though he worked in the field in the 1960s, Sam Ath said that he has worked hard to grasp the style and composition process that composers and musicians used during that era.
"For both the music and the lyrics, we have to make it in the form of the Cambodian character," he said, "There is no reason [not to]: It must be maintained so as not to lose the nation's skin color, because we are Khmer, and the song is Khmer."
Striving to compose new lyrics and new music while maintaining the color and taste of Cambodian music, Sam Ath said that, being Cambodian, he still adheres to the way of composing that will best reflect the country's national identity.
"When we write songs [meant for] foreigners, we cannot sing their songs [to reflect] their character…they do not listen: They need the song, which is our identity," he said.
"If we want to show them, we have to show who we are, what we are," Sam Ath said. "I want to keep my content consistent as well as national."
Asked how long it may take to write a song, he said that it is not possible to say because both the lyrics and the melody come primarily from emotion.
Sam Ath says that he always carries pen and paper, as every writer does. He constantly jots down notes: When ideas emerge, he writes them down immediately. Otherwise, he said, they may fade away and never come back. So even when he cycles, he keeps on composing songs or melodies because on every journey, one comes across some scenes and sounds that may not be easy to find again, Sam Ath said.
Related Articles