Outcry Builds as Environmentalists Charged with Plotting, Insulting the King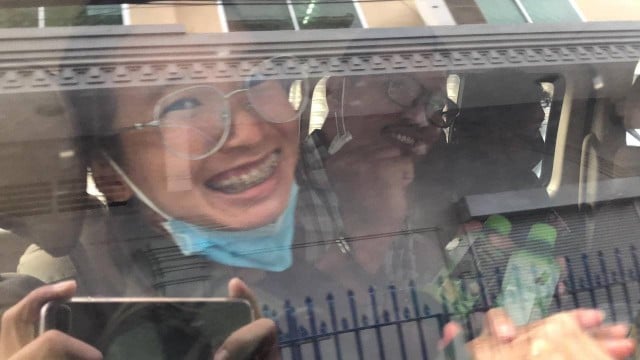 From diplomats to celebrities and NGOs to netizens, the reaction to the government's decision to charge peaceful Mother Nature activists has been met with shock, anger and concern
PHNOM PENH--For the second time in two months, the Cambodian government has detained activists from the environmental group Mother Nature, with four members—including the group's exiled leader Alejandro Gonzalez-Davidson—charged by the Phnom Penh Municipal Court on June 21.
The environmentalists' latest brush with the law began on June 16 when Sun Ratha, Ly Chandaravuth, and Seth Chhiv Limeng were arrested in Phnom Penh and Yim Leanghy was arrested in Kandal Province. All four are connected to Mother Nature, which was dissolved and stripped of NGO status by the Ministry of Interior in September 2017—two years after Gonzalez-Davidson was deported and banned from re-entering Cambodia following a series of protests against ecologically destructive development projects in Koh Kong Province.
However, this most recent series of arrests was initially shrouded in mystery, with neither Phnom Penh nor Kandal authorities willing to confirm the arrests. Ratha, Chandaravuth and Chhiv Limeng had been documenting raw sewage that was seen flowing into the Tonle Sap River when they were detained, but Chhiv Limeng was released without charge after being held for 24 hours.
On June 20, Fresh News—whose staff have previously bragged of having the ear of Prime Minister Hun Sen—announced that Ratha, Chandaravuth, Leanghy and Gonzalez-Davidson would all be charged with plotting to overthrow the government, citing the group's funding, but not providing any evidence that the group were "terrorists" as the article dubbed them. The notion that the group's funding was criminal was reiterated by Khmer Times in an article devoid of bylines that claimed the group operated with "terror-financing."
A spokesperson for the National Police then confirmed that the environmentalists were being charged as terrorists.
Then, the following day, the Phnom Penh Municipal Court formally charged Ratha and Leanghy with both plotting and "insulting the king" whereas Chandaravuth was only charged with plotting. All face between five and 10 years in prison, as well as fines of up to $2,500.
Investigating Judge Im Vannack sent all three to pre-trial detention at Correctional Centers 1 and 2 in Phnom Penh—both facilities currently house an unknown number of COVID-19 cases. Gonzalez-Davidson was also charged in absentia.
Defense lawyer Som Sokong confirmed the charges against the activists but noted that the charges were in response to Mother Nature's work related to the environment dating back to 2012. He declined to speak on the evidence against the activists.
Persecuted and Prosecuted
"Youth and environmental activists are repeatedly reminding us of the importance of protecting our environment, but the government keeps prosecuting and imprisoning them for their activism," said Naly Pilorge, director of local rights group LICADHO. "If we do not listen to these activists now, there will be continued destruction and exploitation of Cambodia's natural resources which will affect future generations of Cambodians."
In May 2021, three Mother Nature activists were sentenced to between 18 and 20 months in prison for planning to stage a one-woman peaceful protest to raise awareness of the environmental implications associated with filling in Boeung Tamok, one of Phnom Penh's largest and last remaining lakes. The Cambodian authorities described the proposed protest as "felonious" and the sentences reflected this.
Prior to this, more Mother Nature activists were detained in March 2020 while cycling from Koh Kong Province to Phnom Penh to raise awareness of the environmental destruction taking place throughout Koh Kong, which is home of one of the most diverse and ancient ranges of wildlife and ecosystems in Cambodia.
"The Cambodian government has relentlessly targeted Mother Nature Cambodia for their environmental activism in recent years, and this marks an escalation with the outrageous charges of 'plotting' that could lead to a decade in prison for these young people," said Pilorge, who called for the immediate release of the activists.
Ministry of Justice Spokesperson Chin Malin, who has repeatedly defended the government's targeting of activists of all stripes, said there was clear evidence that Mother Nature were terrorists and that an investigation had been conducted. He could not give details of the evidence or the investigation.
"[Mother Nature's] environmental activities are just an exterior image," he said. "But on the inside, they are criminals who have committed offenses."
Public Outcry
The lack of evidence presented so far, coupled with the government's ongoing utilization of the judiciary to silence critics who raise uncomfortable truths has resulted in widespread backlash, but the painting of the Mother Nature activists as terrorists has proven particularly shocking to the public given the background of the three Cambodian environmentalists.
Famed for producing educational videos regarding recycling and conservationism, Leanghy, 32, had obtained a scholarship to undertake a Master's degree at the Royal University of Phnom Penh's Institute of Foreign Languages, while Chandaravuth, 22, is also a student in his 4th year at the Royal University of Law and Economics where he was studying law. Meanwhile Ratha, 26, was working as an accountant after graduating from her scholarship-funded studies at the University of Cambodia.
The reaction online has become something of a barometer of public opinion for the government, who has previously U-turned on decisions that proved wildly unpopular with Cambodia's netizens, but whether it will alter the outcome remains to be seen.
Thousands of people have shared, liked and commented on Mother Nature's Facebook page in just a few days following the arrest of the three activists, while a number of Cambodian celebrities have expressed confusion as to how the activists' environmental work could be construed as terrorism.
The Swedish Embassy in Cambodia took to Twitter to express concern over the arrest, as did the US Ambassador to Cambodia W. Patrick Murphy, who wrote "Very troubled to hear of the arrests of more environmental youth activists. Documenting pollution is a public service, not terrorism. We urge authorities to be responsive to its citizens, not to silence them."
Many have observed that the arrests, which seemingly took place without warning in or in response to any particular action, closely followed USAID's decision on June 17 to stop funding the Cambodian government through the Greening Prey Lang conservation project—a decision that was taken partly due to the rampant logging documented in Prey Lang Wildlife Sanctuary, but also partly due to the Cambodian government's continued judicial harassment of environmental activists.
Whether the arrests were supposed to send a message to environmentally minded Cambodians or if it was a pre-emptive retaliation to the US for freezing funding to the government remains to be seen, but at the heart of this matter is the lives of the three activists who now face up to a decade behind bars for what have widely been regarded as trumped up charges.
"Cambodia's highly politicized courts mean that the environmental activists charged have no chance of getting a fair trial," said Phil Robertson of Human Rights Watch. "Only international pressure on the Cambodian government holds out the possibility of saving these activists from unjust prison sentences."
Buoyed by support from China, whose own human rights record has been regarded by activists as abysmal, Cambodia has come to respond less to pressure from its traditional donor partners such as the US, the United Kingdom, the European Union and Australia. Sweden even announced last year that it would be closing its embassy and halting bilateral aid to the Cambodian government, such was the lack of faith the Swedes currently have in Hun Sen's rule.
While local activists remained outside of the Phnom Penh Municipal Court for much of the afternoon on June 21, awaiting the court's verdict on the activists, it remains to be seen whether making an example of Mother Nature will prevent other young Cambodians from speaking out on environmental issues—of which there are ample across Cambodia.
"The Cambodian government has stepped up its campaign to silence activists peacefully advocating to protect the environment," said Robertson. "Foreign governments, the United Nations country team, and international donors should call on the Cambodian authorities to drop their absurd charges against the environmental activists and publicly condemn any further clampdown on peaceful activism."



Additional reporting by Gerald Flynn
Related Articles