Over $230M Paid Under Government's Cash Relief Program for Poor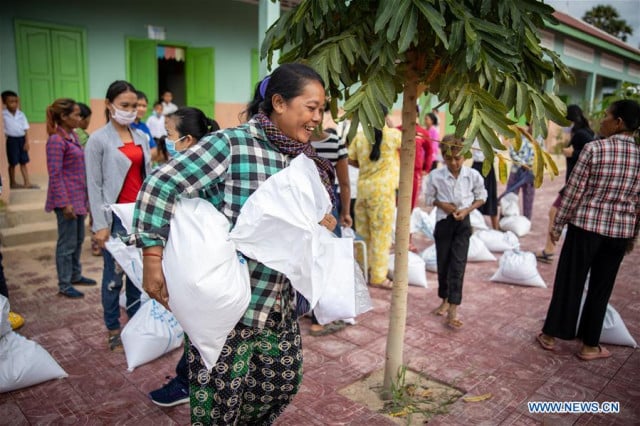 Sao Phal Niseiy
February 26, 2021 7:33 AM
The Social Affairs ministry considers asking Prime Minister Hun Sen to extend the program
PHNOM PENH--The Cambodian government has spent more than $230 million since June last year supporting deprived households during the Covid-19 pandemic.
A Social Affairs Ministry report said more than $30 million had been disbursed to more than 680,000 households between January 24 and February 24.
The pandemic relief fund to support poor families and vulnerable groups was officially unveiled by Prime Minister Hun Sen on June 24, and was expected to last five months.

Cash has been handed out using the same mechanisms as the IDPoor program, which is used to identify vulnerable families and is being implemented by the Ministry of Planning and the German GIZ NGO.
The report said that between June 2020 and February 2021, the government had been providing more than $230 million under the program.
On December 15, Hun Sen announced the extension of the relief fund for another three months during his special address to the nation because the Covid situation remained problematic and continued to affect people greatly.
Social Affairs Ministry spokesperson Touch Channy said the ministry is considering asking the Prime Minister for a further extension beyond March to support those who desperately need help at this difficult time.
"There has been no official decision yet, and we are considering whether to make an official request to the Prime Minister for a final decision," Channy said.
Cambodia's economy was recovering from the effects of the pandemic but has been hit hard by a worsening community cluster, with more than 200 people found to be infected. This has prompted grave concern that economic activities will again be adversely affected, ultimately undermining efforts to revive the economy.
The government said previously that the poverty rate in the country was about10 percent. But the World Bank in May estimated that serious effects of the Covid-19 epidemic could increase poverty in Cambodia by 3 to 11 percent by 2020.
The UN says poverty is forecast to almost double in Cambodia, reaching around 17.6 per cent of the population as a result of the pandemic.
As of February 26, the total number of Covid infections stood at 740 since the start of the pandemic in 2020. Among them, 477 patients have fully recovered while 263 remain hospitalized.


Related Articles