Over 70 Percent of Inmates in Cambodia Are Vaccinated for COVID-19, the Authorities Say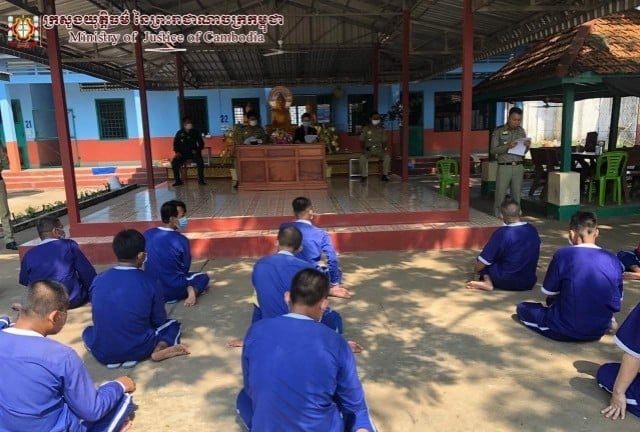 No information has been released as to the number of inmates who caught the coronavirus
PHNOM PENH--At least 73 percent of the estimated 38,000 inmates incarcerated in Cambodia's prisons have been vaccinated for COVID-19, said Nuth Savana, deputy director general and spokesperson for the General Department of Prisons.
"We know that the vaccine offers many benefits to prevent the spread of COVID-19 and, even if you are infected, your condition will not be serious," he said in a phone interview on Aug. 6.
Savana pointed out that having inmates vaccinated not only prevents the spread of the disease in prisons but also protects their lives and the lives of those around them.
However, he admitted that the issue of prison overcrowding, which increases the likelihood of community spread when an inmate gets sick with COVID-19, has not been resolved.
Savana went on to explain that the Cambodian government has been trying to solve the problem by building more prisons in some provinces such as Kampong Cham, Oddar Meanchey and Tboung Khmum provinces.
These buildings should be completed by the end of 2021 and the overcrowding situation in prisons will eventually improve, he said.
Several civil society groups have repeatedly expressed their concerns regarding prison overcrowding, stressing that this could increase the risk of spreading COVID-19 among detainees. They have appealed without success to the courts and the government to consider releasing some detainees such as imprisoned women, those with small children or pregnant, the elderly, the sick and prisoners under 18 years old.
According to the General Department of Prison's press statement issued in June 2021, at least 10 to 20 percent of the inmates had been infected with COVID-19 in some prisons including the Prey Sar Prison in Phnom Penh, the Banteay Meanchey Provincial Prison, the Kampong Speu Provincial Prison, the Kandal Provincial Prison and the Preah Sihanouk Provincial Prison.
During the interview on Aug. 6, Savana declined to say how many detainees had died of COVID-19. However, Cambodianess previously reported that one inmate at Prey Sar Prison and one inmate at Kampong Speu Provincial Prison had passed away due to the coronavirus.
As of Aug. 8, Cambodia had registered 81,891 COVID-19 cases in the country. Among them 75,495 patients have recovered and 1,562 patients have died of the disease.
To date, a total of 8,044,707 persons have received their first dose of the coronavirus vaccine and 5,636,669 persons have received their second dose.
As for the vaccination campaign for adolescents 12-to-17 years old, around 12.8 percent of the 1.96 million youngsters in that age group have received their first dose, according to the Ministry of Health.
Related Articles