Pailin Longan Farmers Call Out Thai Importers Blocking Trade Routes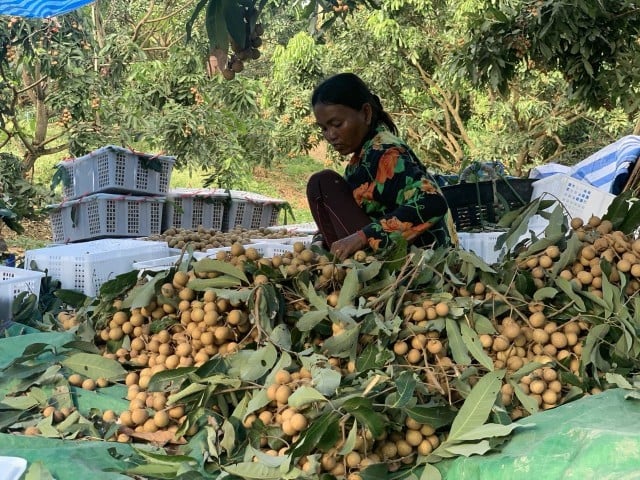 Ou Sokmean and Phoung Vantha
December 7, 2020 10:42 AM
Relying on the reputation of Thailand to export longan to China, farming communities in Pailin Province have reported hardships enforced on them by the Thai importers.
PAILIN--The livelihoods of longan farmers in Pailin Province depend on Thailand's brand name to export their products to China, but agricultural communities are speaking out against exploitation and discrimination from Thai importers.
"Depending on their mood, when the Thai side feel good, we import normally, but sometimes we are not allowed to import for two-to-three days or even a week," complained one farmer who wished to remain anonymous. "If they want to close the border to us, then they close it, when they want to open again, they open it."
"Negotiating with the Thai importers is costing us, by the time they agree to let us export again, our longans are broken and past their best," the farmer added.
The reliance on Thailand as a go-between for Pailin Province's longan farmers hinges on the "Made in Thailand" sticker that allows Cambodian produce to be exported to China. For more than eight years, the longan farming community in the west of Cambodia have lived under the fickle nature of their Thai buyers.
Many farmers complained that the Thai border is closed to them specifically during longan harvest season, placing extra financial burdens on Cambodians eking out a living off the land.
Long Ron, owner of 6-hectare longan plantation in Sala Krau District, Pailin Province said that Thailand can export many products to Cambodia but questioned why his products were often refused at the Thai border.
Operating through trade corridors, Ron—a member of the Pailin Longan Farmers' Community—has been the supplier to a Chinese company based in Thailand since 2014. The Chinese company pays Ron and other farmers just 4,000 riels—roughly $1—per kilogram before exporting the longan to China at a profit.
Ron complained that her farm and her community have faced increasing challenges in delivering the longans to the Chinese company. She said that the Thai importers had made it harder to get permission, which subsequently lowered the volume of exports and left her with a lot of unusable longan.
One key challenge to Cambodia's agricultural sector comes in the form of higher certification standards in neighboring countries. Thailand, Ron explained, requires documents to certify that her longan are grown in line with best practices that guarantee customer safety—particularly in relation to contamination and pesticides.
But as Cambodia lacks an equivalent documentation system, the farmers of Pailin Province often fail to meet the bureaucratic standards for exports to Thailand.
Oun Theng, owner of 15-hectare longan plantation in Pailin Province said that their livelihoods grow more precarious as more regulations and stipulations are added by the Thai side. This includes setting strict times for the transportation of longan products—usually, Theng said, around 11 p.m.—which adds another layer of difficulty for farmers.
"If Pailin longans are not good or insecure, the Thai authorities will not allow the Chinese company to use the label 'Made in Thailand' to export to China's market for many years—Thailand is a very reputable country," he said.
Theng went on to explain that the farmers of Pailin Province used to have more direct access to the Chinese market, but more recently there had been a shift in consumers' preference for products ostensibly "Made in Thailand."
Pivoting to meet the changing demands of Chinese customers, Theng explained that this now required him to spend more money on transport and logistics. Often, he complained, the workers he hired would have to remove the longan from the truck for inspection—up to three times per trip—which leads to more damage done to his product before they arrive.
He added that Thailand was gaining a reputation for making it harder for Cambodian farmers to export their goods.
Suon Chum, Vice Chairman of Pailin Longan Farmers' Community, said his group can carry only 50 to 60 tons to Thailand each day.
Pailin Longan Farmers' Community currently operate a $3 million factory with drying, disinfecting and fruit packing facilities, but Chum said the investment came from a Chinese company, even though there is currently no agreement to export longan from Pailin Province to China.
As such, the farming collective use the factory for their goods being sent to Thailand, but Chum added that Thai authorities refuse to accept longan products that have been cleaned and packaged before entering Thai territory.
"From November to January, both Pailin and Thai farmers harvest longans, but the Thai side closed the border crossing for up to 10 days—it makes it impossible for us to import even a single longan," said Chum.
Say Sophat, Director of Pailin Provincial Department of Agriculture, said there are some 40 longan farming communities in the province consisting of more than 200 families. Currently, Pailin Province has 4,389 hectares of longan plantations, which is the amount of land given to farmers or communities, while other areas cultivate in Pailin are not counted, Sophat added.
Farmers, communities, the agriculture authorities and investors are all hoping that Cambodia will reach an agreement that will see Pailin longans exported to the international market—especially directly to China—by 2021.
Ngin Chhay, Director General of the General Department of Agriculture said that Cambodia should be able to export Pailin longan to the Chinese market by late 2021 or early 2022. Cambodia has already submitted an assessment report on the risks and contaminants on Pailin longan to China, but authorities are still waiting for the Chinese hygienists to inspect the cultivation and packaging techniques in Cambodia.
Related Articles