Pailin Province Finds a Market in South Korea for its Carrots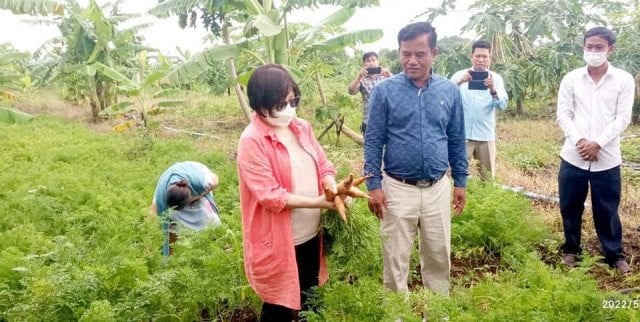 In addition to longans and yellow bananas, the province is about to add carrots to its exports to that market

PHNOM PENH– The Pailin Provincial Department of Agriculture has been discussing with South Korean importers adding carrots to the agricultural products exported to that country.
Say Sophat, director of the department, said that he has recently been in touch with the Korea Importers Association (Koima) regarding expanding the list of fruits and vegetables exported from the province.
"As a first step, the South Korean side wants to import around 40 tons of carrots every month," he said, adding that carrots are easier to export to the South Korean market than other crops because that country is in short supply of that produce.
"South Koreans are very interested in our carrots because the country is in need," he said, of this vegetable. "They are ordering 40 tons a month, and we do not have enough to meet what they want because Pailin just started planting in 2021."
As Sophat explained, a pilot project to grow carrots launched in 2021 proved remarkably successful as Pailin Province has good soil suitable for this type of crop. But at this point, the current crop will not meet the South Korean exporters' needs, he said.
"So, the only way is to collect some [carrots from] Pailin Province and some from other provinces to get 40 tons," he said. Still, by June at the latest, Sophat said that Cambodia will be able to have a first carrot shipment ready for South Korea.
Meanwhile, he urged farmers to expand their carrot production not only to export to international markets but also to meet the needs of the domestic market: There is a big market for carrots and production is still small, he said.
During the discussions with Koima, the possibility of exporting three other crops—Pailin logans, mangoes and yellow bananas—was also mentioned, Sophat said.
Related Articles