Passengers Aboard Riverboat Docked in Kampong Cham to be Tested for COVID-19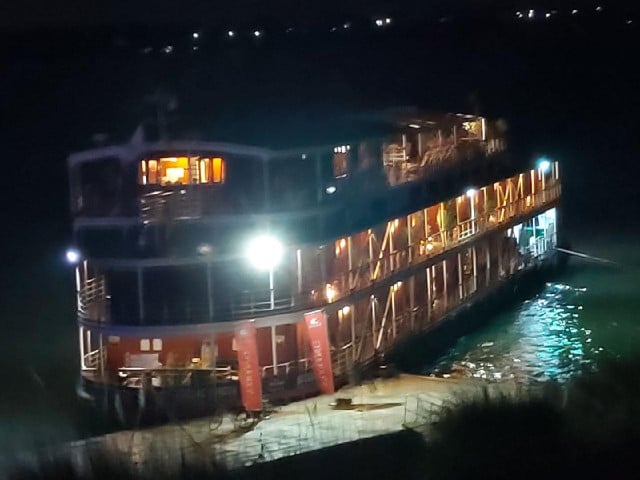 Provincial Health Department official claims that the results should come back from Institut Pasteur as early as Thursday morning.

PHNOM PENH--All 62 passengers aboard the Viking Cruise Journey riverboat that is docked in Kampong Cham province will have provide samples to be tested for COVID-19 at the Institut Pasteur, according to Kim Surphirun, director of Kampong Cham provincial Health Department. Speaking on Wednesday, Surphirun announced that the results should be made public by March 12.

"I'm not sure yet when the test results will be available, maybe tomorrow morning," he said.

This comes after the Ministry of Health on Tuesday evening confirmed Cambodia's third case of COVID-19, with a 65-year-old British woman testing positive in Kampong Cham province. She is believed to be one of the passengers from Viking Cruise Journey, which travelled from Ho Chi Minh City to Phnom Penh before voyaging to Kampong Cham city.

The 65-year-old patient is the only passenger to have disembarked and is currently being treated in an isolation room at Kampong Cham Provincial Hospital where her health is reportedly stable, according to the provincial Department of Health. It is thought that four of the woman's close friends with whom she had traveled have since tested negative for the coronavirus.

Surphirun added that all people still aboard the boat are currently healthy, with no symptoms of the virus. The Viking Cruise Journey riverboat is carrying 29 tourists, including 14 Americans, 11 British nationals and four Canadians. The ship's crew consists of 24 Cambodians, one Danish woman, one Burmese man and seven Vietnamese women.

The confirmed cases of COVID-19 globally has surpassed 119,000 and killed more than 4,300 as of March 11, 2020, with British Health Minister Nadine Dorries testing positive for the virus as the world ramps up efforts to contain the outbreak.

Despite this, the World Health Organization has not yet branded COVID-19 a pandemic, but Prime Minister Hun Sen has faced sharp criticism from medical experts for recommending the use of a scarf or krama instead of a face mask. Hun Sen's advice led to staff at the Siem Reap Provincial Hospital posing with the traditional Khmer scarves wrapped around their faces, which has prompted criticism of the practice.

Just this week, Hun Sen urged people to trust in the Cambodian healthcare system and claimed he would get tested for the coronavirus as well.


Related Articles